Hey all you cool cats and kittens.
Touching base with a quick blog post to keep you up to speed with all things Incy and to let you know that WE LAUNCHED A NEW FURNITURE RANGE! YES IT'S IN CAPITALS BECAUSE WE ARE SO DARN PUMPED ABOUT IT!
This week we introduced the newest member of the Incy fam to the world and he goes by the name 'William'. He is super cute (all bias aside, obviously) and we can report he is settling in to his new life exceptionally well.
In case you missed his highly anticipated entrance, don't fret because we are going to divulge all things William in this blog post AND treat you to a little moodboard to spark some inspo for when he arrives at your house.
The William range comprises of three bedroom essentials:
| | | |
| --- | --- | --- |
| | | |
| A single bed for your littlest babes first bedroom situation | A double bed because we don't want the older kids to be left without | A chair for them to kick up their feet after a long day of being a kid |
William
William was designed with a few things in mind. Comfort, quality and charm. We don't like to toot our own horn but we DO like to think we nailed the brief because William is all those things and more. The bed is padded for comfort (tick), upholstered in 100% genuine soft tan leather for quality (tick) AND, if our ageing eyes don't deceive us we'd say he looks pretty darn charming (tick).
In keeping with the theme, the matching William Chair shares the same loveable features. His sturdy interior is cushioned, padded and perfected with high quality materials that we can promise will have you not wanting to get up in a hurry (seriously, trust us on that – it's dangerous). The same 100% soft tan genuine leather outer and of course, that same timeless charm.
Now for all those things that'll make him look and feel at home.
When you start your styling story with a hero like William, putting together the rest of your space is a cinch. In saying that though, his almost too accommodating nature means he looks fab with most colours, making for settling on just one, kinda difficult. If you aren't sure where to start, we've put together a little moodboard to spark some inspiration.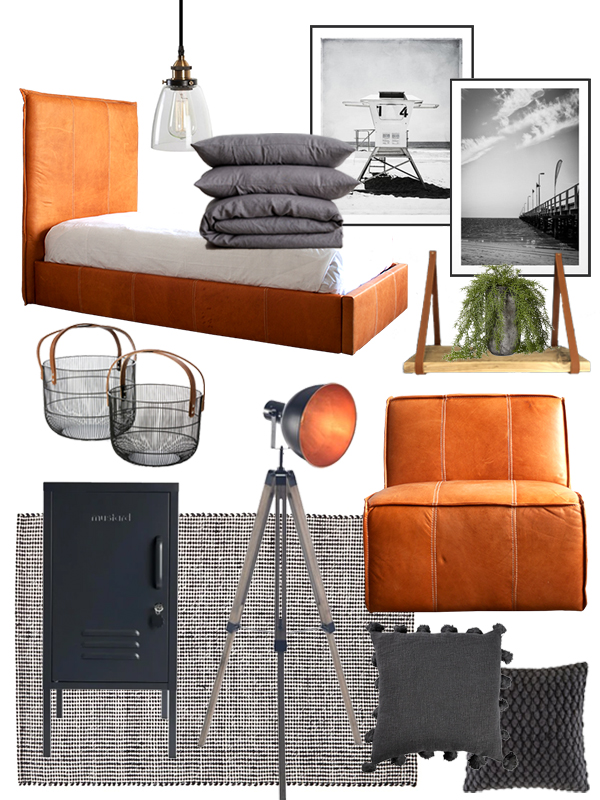 We focused on moody, dark tones to make that tan leather really pop. A mature palette that doesn't necessarily have to be reserved for the more mature kids. Being the absolute gentlemen William is, he truly is adaptable to all ages, styles and tastes (what a guy!).
If you couldn't already tell, we are pretty bloody smitten with him and are so excited to see him start popping up in homes around the country very soon!
Check out below for the brands behind the board:
Incy Interiors William Bed (Single)
Incy Interiors William Chair
Rugs of Beauty Carlos Felted Wool Flatweave Rug (Black/Natural)
Cultiver Linen Duvet Cover Set Charcoal Grey
Zanui Juniper Floor Lamp
Society 6 Black and White Lifeguard Stand Print
Society 6 Jetty in Black and White Print
Freedom Bridle Cushion Black
Temple & Webster Charcoal Raffa Square Cotton Cushion
Temple & Webster Lucy Glass Pendant Light
Mustard Made The Shorty in Slate
Adairs Marcus Wire Baskets Black Metal
Adairs Adeana Fern