We designed this moodboard for a friend's dinosaur obsessed babe who was ready to transition from his Teeny Cot to his first big boy bed. There were two main factors to the brief - keep the change table and make it dinosaur-y without the tack. Easy!
Pondering over these requirements, it got us to thinking... we never really talk about how versatile our products, particularly our change tables can be, let alone give you a visual example. It's not the real thing, but this moodboard gives you a pretty decent indication of how much fun and freedom you can have when it comes to up-cycling your Teeny Change Table into a convenient Teeny dresser. As well as this, we felt this blog post was important for another reason... it shows how fabulous our Eden Bed looks with a darker, moodier theme, perfect for the little dudes out there! There's no denying that this rose gold wonder totally POPS with this palette and very conveniently, it looks beautiful when paired next to your up-cycled Teeny!
The jute rug was another feature we wanted to take with us on the nursery to bedroom transition and if you are a Teeny enthusiast like ourselves, you will notice from lots of images we have been tagged in and shared over the years, a jute rug has become quite a popular choice to pair back with our Teeny range. Instead of rehoming it with the bedroom upgrade, we've (virtually) reused it under the Eden Bed because as it happens, jute and rose gold don't look half bad together either - what a happy coicidence that turned out to be!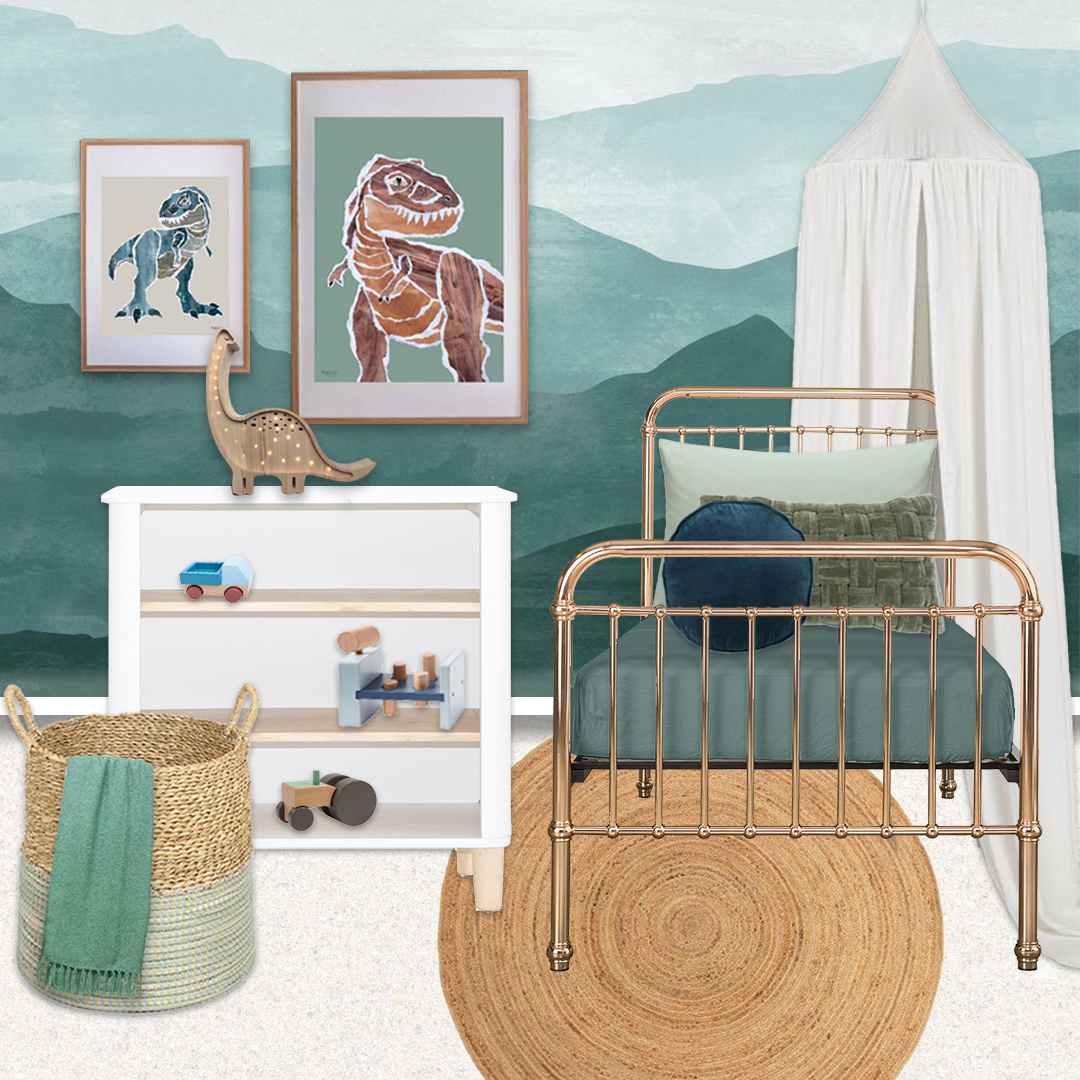 As we always say, there really is no right or wrong when it comes to styling. Whatever theme you go for the goal is to find the perfect balance of fun and functionality - particularly when designing a space for kids. This is their sanctuary so if you can get them involved and make them feel like part of the process, you've already aced it!
Check out below for the brands we used to create this look.
Incy Interiors
Teeny Change Table


Incy Interiors
Eden Bed - Single


A New Wall
Watercolour Mountain Wallpaper


Scandiborn
Liewood Enzo Canopy Creme


Temple & Webster
Natural & Teal Jute Basket


Temple & Webster
Natural Round Jute Rug



Kate Fisher
Mr. Brown Rex

Little Lights
Dino Diplodok Lamp

Kip & Co
Green Sea Velvet Pea Cushion