Envisioning the space your babe will take up residence can be a difficult task. What theme will you go with? Simple or bold? Colourful or crisp white? What pieces should I even start with? It's hard work – let alone trying to make these decisions when you are housing said human in your body.
We've been there so we totally get it and that's exactly why we put together some nursery packages to take the stress out of deciding what goes with what and ending up with 500 different orders from 500 different places – total nightmare material!
We've even gone one step further and made a moodboard to spark some inspiration when it comes to one of our best selling packages! So bold, rose gold is, as you may have presumed, a nursery package featuring our dreamy Ellie Cot, handy convertible Estelle Change Table and a mattress and change pad to round it all out.
This particular creation was inspired by a customer who had ordered an Eden Bed (another rose gold wonderment) and needed some inspiration on how to make it work with a chest of drawers she wanted to paint a dusty pink. Not to toot our own horn, but we sat back after creating this moodboard for her and admired our handiwork. This admiration quickly turned into us madly manufacturing a similar palette for our rose gold Ellie Cot and pink Estelle Change Table, because, well, why not?!
If we had to put a description to it we would say it's an almost boho infused feel with a mellow colour palette and sophisticated vibe… but we will let you be the judge!
Check out the creation below and the brands we included.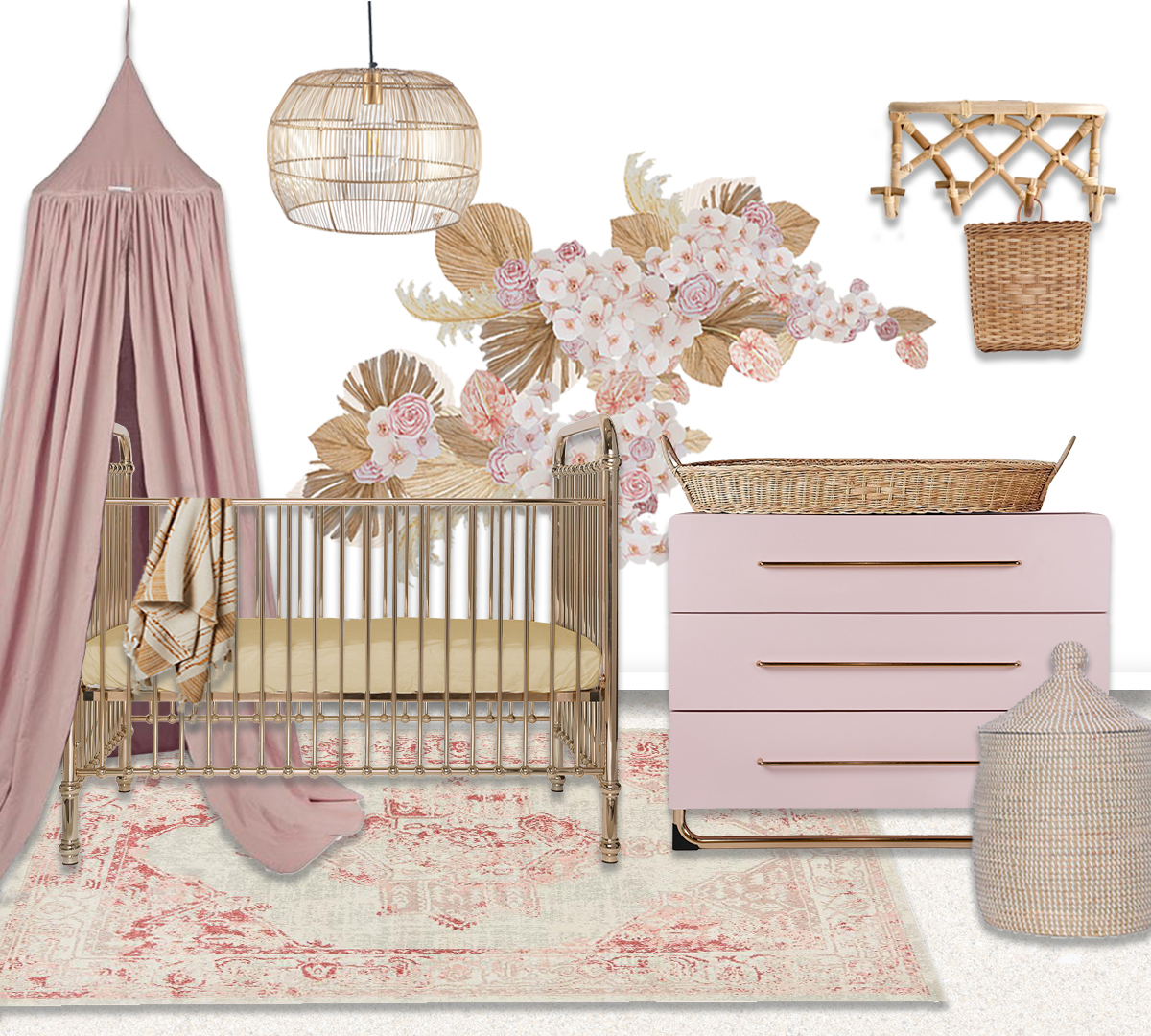 Incy Interiors Ellie Cot
Incy Interiors Estelle Change Table
Cheapest Rugs Online Avenue in Rose Rug
Olli Ella Bayu Changing Basket
Olli Ella Neutra Basket
Olli Ella Bowery Basket
Au Fait Living Hooked Up Wall Hook
Ginger Monkey Orchid, Rose and Pampas Wall Decal Set
Adairs Muscat Mustard Throw
Scandiborn Liewood Enzo Canopy in Rosa