When something as beautiful as our Estelle Bunk comes a long (yes, we have tickets on it and we aren't one bit sorry about it), it deserves as much airtime as possible. While restyling our Estelle Bunk bedroom as frequently as we stumble upon a new piece of 'OMG this would be perfect with our Estelle!" décor (aka daily) is not the most feasible of options, we thankfully don't mind dabbling with the odd moodboard. The intention of our moodboards (aside from getting as close to a room makeover fix as our budgets will allow) we really hope that they spark some inspiration, prompt a few different styling ideas and highlight some amazing brands for those actually creating a beautiful space at home #jealous.
After being tagged on Instagram in a pic from the talented @am_interior_studo featuring this illustrious bunk in question, our matching Estelle Side Table AND some dreamy pink tones, you can bet we were all kinds of inspired – so much so, our Saturday morning went from watching back to back episodes of Masterchef to whipping up a moodboard we think is pretty darn special. (For those playing at home, you'll be happy to know I have now completed all 61 episodes of Masterchef Season 10 and was team Sashi the whole way – woo! I now hear there's new judges on the most recent season?! Whaaaaat??)
Any who. Enough of that. Please enjoy this tasty, self-awarded 10/10 moodboard we've plated up featuring our Estelle Bunk and Estelle Side Table. Keep scrolling for the brands behind the board – we've listed them at the bottom.
Bon Appétit!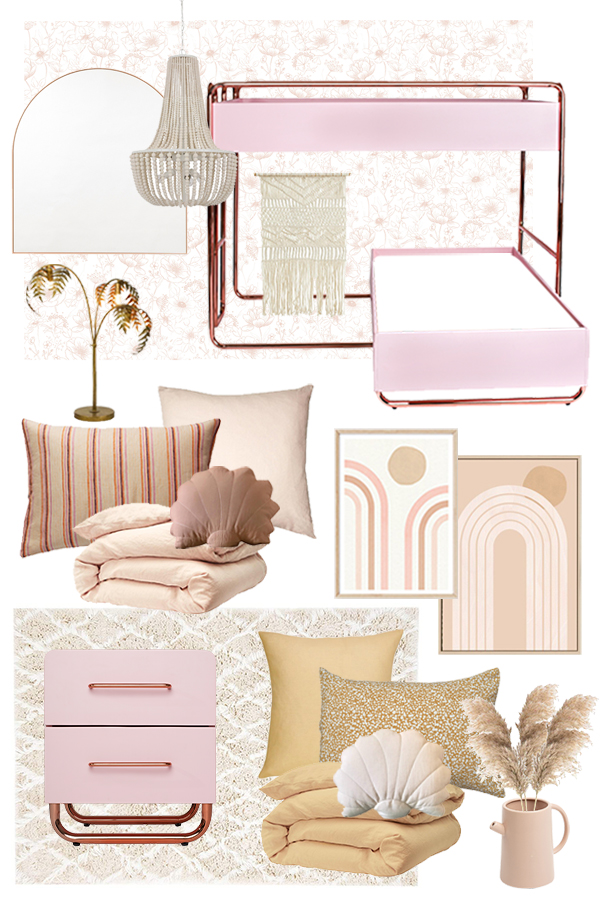 Brands behind the board:
Estelle Bunk - Incy Interiors
Estelle Side Table - Incy Interiors
Botany Flowers - Pink Wallpaper - Natty & Polly
Bed Linen - Sage & Clare
Shell Cushions - Hunter & Nomad
Simrika Cream And Ivory Berber Wool Shag Rug - Miss Amara
Koralky 8 Light Pendant in White Wash - Beacon Lighting
Bjorn Arch Mirror (Powder) - Life Interiors
Sun Rainbow I - Boho Art Styling
Sun Rainbows - Boho Art Styling
Hattie Ceramic Vase - Temple & Webster
Bohemian Tapestry Wall Hanging in Natural - Rugs for Good
Antique Gold Palm Leaf Table Lamp - Trouva