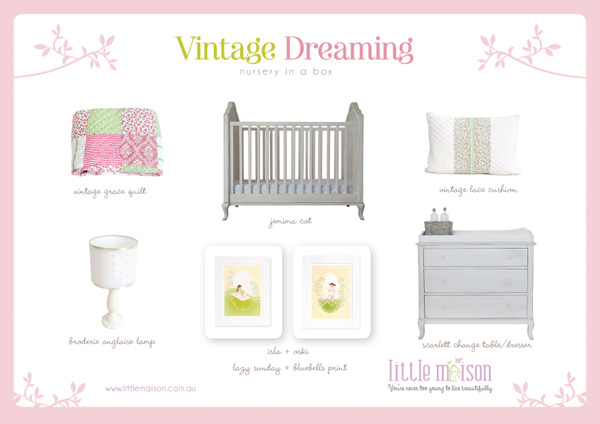 I adore the way this style of room looks towards the past and creates an aura that is heirloom.
Each piece in a vintage style nursery should look as though it was handmade with a typical colour palette of soft washed tones.
Furniture pieces can be antique or they can be new but with an added patina to make them appear vintage. The incy jemima cot is perfectly suited to a vintage nursery with its scalloped edges, carved legs, rattan panelling and distressed white finish with a soft gold patina.
Accessorise the room with bevelled mirrors, patchwork quilts and vintage inspired artwork. Don't be afraid to roam flea markets to find pretty trinket boxes or handmade toys to complete the vintage look.
This time-honoured style brings an invaluable sense of warmth and comfort to a nursery, the very reason why it is my favourite of all styles.
Leah x