Put it next to an episode of The Block and it's hard to tell the difference. Our latest project, which we have conveniently popped on our IGTV for reference (and so we can watch on repeat), was a bedroom makeover for Polly and Oscar. Unlike your usual season of The Block, Polly and Oscar didn't receive prize money, but as the clear winners on the day, secured a brand new bedroom and some pretty cute beds – a perk of being born to the owner of Incy Interiors, I guess.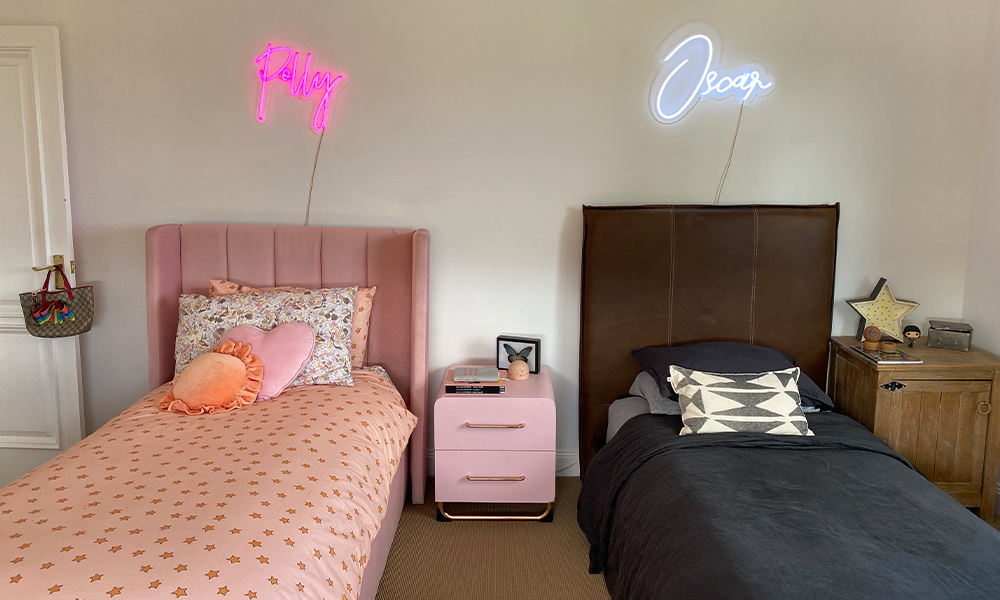 The project was a race against the clock – not intentional, just due to some seriously poor time management skills on our end - to nail the brief. The brief was somehow agreed upon by 12 year old Oscar and 8 year old Polly who provided the directives of nailing the perfect shared bedroom. Shared?! You ask, to which we confirm with a yes. Because you know as well as the next person that with any good reality show comes nail biting challenges that keep the audience on the edge of their seats, and we can safely now say, nothing poses a bigger challenge than styling a shared room for an almost teenage boy, and tutu loving girl.
To give some context to what we were working with, we gave Polly and Oscar some questions to complete once they'd moved into their new room. Here are their unedited, impromptu answers:
1. What's your favourite thing about your new room?
Oscar – my bed because it has a squishy headboard.
Polly – my desk so that I can draw while I look out the window.
2. What's the best thing about sharing a room with your brother/sister?
Polly – that we don't have to fight over who gets the puppies to sleep in their room.
Oscar – if a murderer comes Polly is closer to the door and will get murdered first…. Only joking it means I don't get scared because someone else is in the room.
3. What's the worst thing about sharing a room with your brother/sister?
Polly – that he stinks!
Oscar – that I don't get as much space.
4. What made you choose this particular bed?
Oscar – because of the squishy headboard and I like the dark brown colour.
Polly – I have always wanted a velvet bed.
5. If you could change one thing about the room what would it be?
Oscar – not sharing with Polly.
Polly – not sharing with Oscar.
6. Talk me through your bedtime routine.
Oscar – brush my teeth, have nose spray, take my tablets and a warm cup of milk and go to bed.
Polly – have shower, moisturise, put on PJs, brush my teeth, put lavender on my pillow, get piggy and go to bed.
A little side note from Kristy and perhaps, a more accurate insight into how the night time routine takes place: they are both supposed to be in bed by 8pm. We normally start getting them to bed around 8ish. It takes what seems like an eternity to get them to brush their teeth and get into bed. Oscar undoubtedly gets back up at least 3 times to get a drink, go to the toilet or 'check something'. Polly will still be wandering around the house at 8.45pm looking for the dogs, watching TV and generally driving me nuts. Every night around 8.45pm I lose my shit and yell 'why do we do this EVERY night'. We then repeat the same process the next day!
7. Tell me 3 words to describe your new room.
Oscar – 'I really like it' but that's 4 words!
Polly – cool, exciting and fantastic.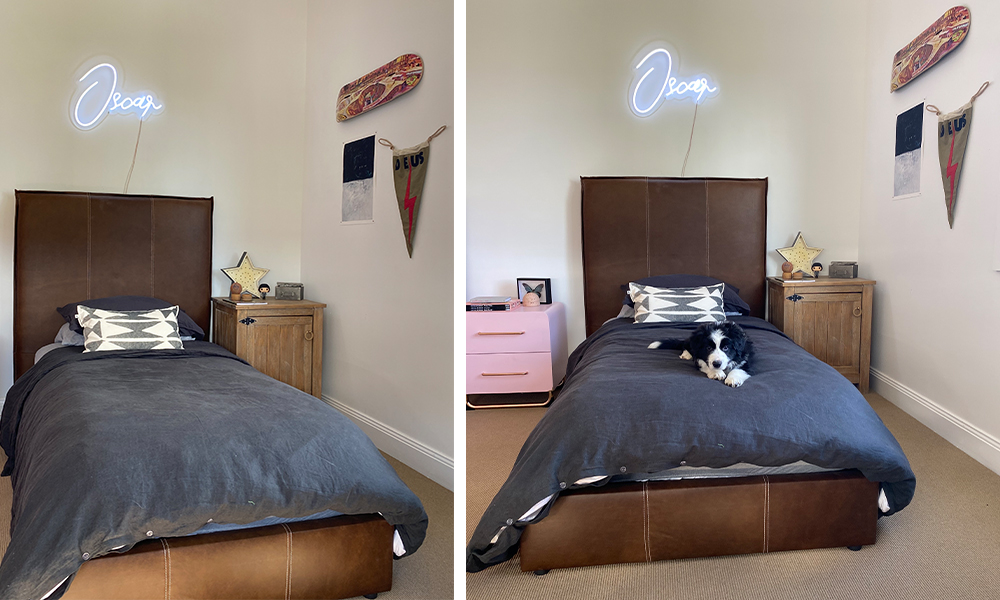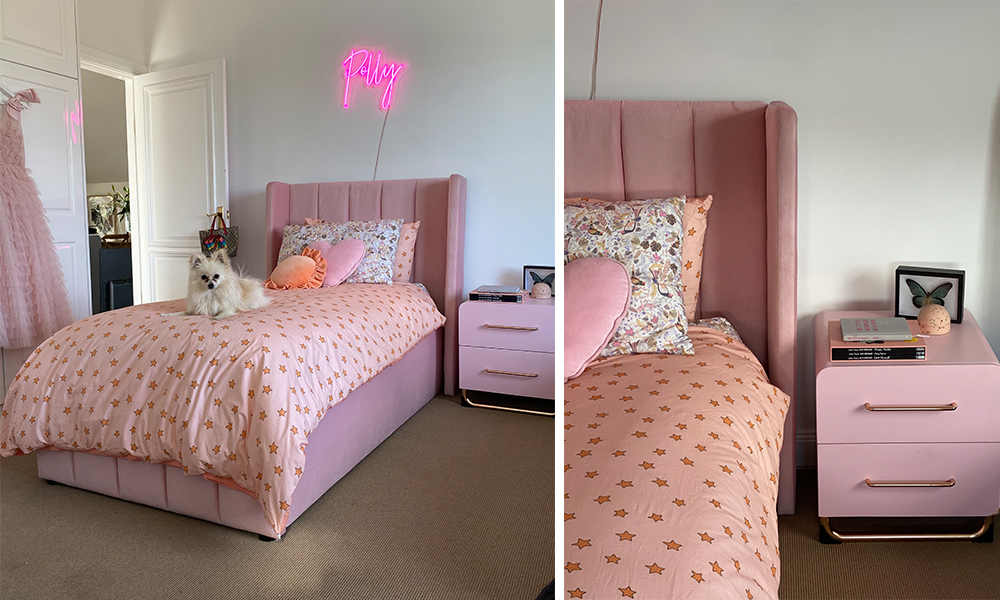 If you've watched the IGTV, you'll be privy to the fact that this is not the kids forever bedroom in their forever home. Having her two kids sharing was never Kristy's intentions, but when life gets in the way of building your dream house, 2.5 years of room sharing becomes the reality of it all. Not letting an obstacle like this get in the way, the kids sat down with Kristy and picked all the elements for their room, including a 'hotel bed' for Oscar and 'just something pretty' for Polly. While the overall room size posed as a bit of a hamstring in trying to give the kids their own respective spaces, Kristy has actually commented on how much bigger the room now feels.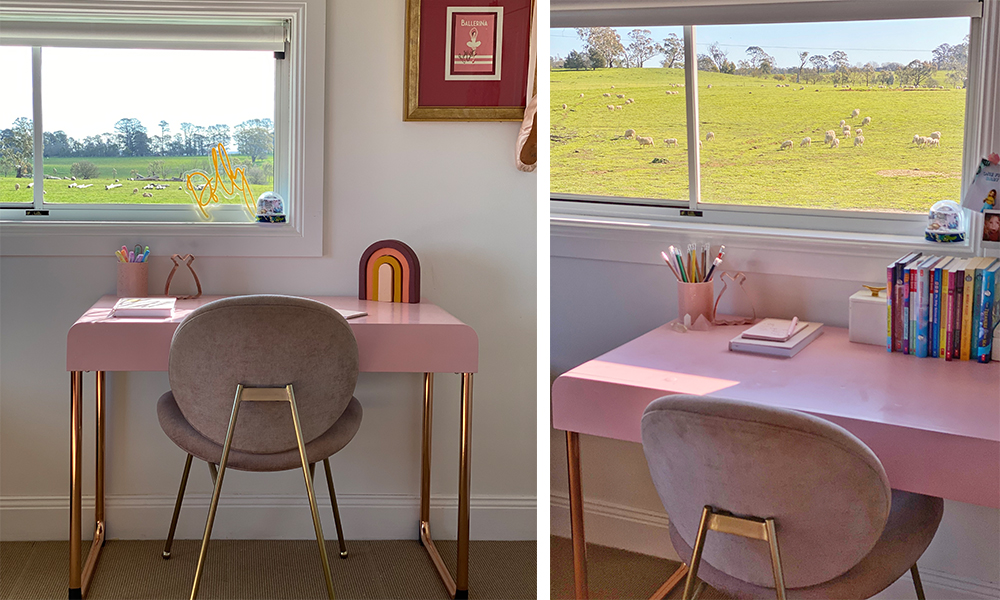 The building of the forever home will hopefully commence by the end of the year so there may just be another room makeover on the horizon. Kristy says the best (and worst) thing about living in the small guest house and having the kids in a shared room is that someone is always around so we think it's safe to say the whole family are looking forward to seeing their well overdue forever home start taking shape.
If you are wanting to shop the look, we've conveniently linked the Incy pieces used below, however, some of the items used for Oscar's side, you won't be able to find online and this may or may not be a hint into what's the come...(wink, stay tuned for mid October, wink)