You've got your nursery furniture sorted but now it's time to add in a few extra little pieces and being the practical parents we are, we are all for making sure these pieces serve a purpose. Over the years we have stumbled upon many a product that is, for lack of a better term, completely unnecessary in your baby's nursery space. But seeing these gimmicky products have their 5 minutes of fame has really lent itself to knowing the products that are truly there to make life easier for both Mum and baby - and the good lord know us Mum's need all the help we can get.
WHITE NOISE MACHINE
Can confirm, these are a total game changer for lulling your baby to sleep! Don't just take our word for it though - there is scientific research to prove that white noise helps soothe babies because it mimics the repetition of noise they heard in the womb.
There are apps on your phone that do the job, but why sacrifice the very small amount of precious screen time you get in your day, when you purchase a white noise machine specifically for the nursery?
Here's a few notable ones currently available:
Dreamegg White Noise Machine
The Dreamegg White Noise Machine features a premium speaker with 24 soothing sound variations including white noise, fan and relaxing natural sounds. Boasting a handy built in timer, you won't even have to enter the room again and risk waking your little one to switch it off. This game changing, nursery essential also features an optional night light which emits enough brightness for baby night feeding - #winning!
Shop Dreamegg White Noise Machine ($69.99)

Marpac Whish White Noise Sound Machine
16 different, dreamy sound options to lill your baby into a restful slumber, including sleep songs and meditation soundtracks, as well as white noise, fan and nature sounds. The Marpack Which White Noise Sound Machine plugs into your wall so it can soothe your baby right through the night.
Marpac Whish White Noise Sound Machine ($99.95)
Welcare Sleep-Tight Sound Machine
This one will hit you right in the feels. As well as playing five relaxing sounds and 4 soothing lullabies, the Welcare Sleep-Tight Sleep Sound machine can record and play mum's heartbeat using Heart Sure Technology. If that doesn't have your little one feeling safe and sound, we don't know what will. This nifty nursery addition also features a timer setting, hanging strap and takes batteries which makes it easily portable for life on the go.
Welcare Sleep-Tight Sound Machine ($99.95)
Project Nursery Giraffe Sound Soother ($43.99)
The cutest little sleep saver you ever did see. This Giraffe Sound Soother from Project Nursery can be used in the nursery all night long thanks to the plug-in feature, or taken on your travels with it's handy battery option. A compact design jam packed with a quality speaker system to listen to the 6 soothing sounds available and at a great price point, this nursery essential is an affordable way for you and your little one to catch up on some zeds.
Project Nursery Giraffe Sound Soother ($43.99)
SOFT LIGHTING
A soft lighting can make the world of difference in a nursery, not only for your little one, but for avoiding toe stubs and tripping hazards during those nightly check ins'. A few features to look for when choosing your nursery night light is portability, a timer, a dimmer or brightness control and a remote. We've scoured the new and have found a few that tick all the boxes.
Ginger the Fox Bedtime LED Night Light
Adorable little lights that are as practical as they are cute as they keep your little one's nursery space dimly lit throughout the night. These lights feature a lamp shade, a base, a remote control, a rechargeable battery for portability and a USB cord and what's more, they have 9 brightness settings, 9 colour options and 3 timers.
If the Fox doesn't tickle your fancy, these LED night lights are available in other cute creatures like Sleepy the Koala, Teddy the Bear, Blinky the Owl, Bugsy the Bunny, Horace the Hippo and many more.
Ginger the Fox Bedtime LED Night Light ($49.95)
Mr Maria Miffy Dimmable LED Lamp
These affordable Miffy dimmable LED lamps are a bit of a stretch on the budget but by golly do they make for a cute addition to your baby's nursery! Place on a secure surface and connect bia a USB for the whole night.
Mr Maria Miffy Dimmable LED Lamp ($169.95)
OSC Mini Snow Mountain Lamp Night Light
Allow your little one to drift into a sound sleep, surrounded by a soft and comforting glow, all night long. Two brightness levels and a handy timer setting, this portable light has a built in battery which makes it perfect for carting from room to room. The snowy mountain design will add a touch of modern simplicity to your little one's nursery and comes in 3 different colour ways.
OSC Mini Snow Mountain Lamp Night Light ($45.00)
VAVA Baby Night Light
Vava's Baby night light is a battery powered, anti blue light LED lamp with a rechargeable battery that can last up to 200 hours. This nursery light features several light modes that are perfect for both sleep time and adjustable to suit those late night feeds. What makes this light even more practical is it's waterproof design that makes it perfect for the outdoors.
BABY MONITOR
An essential part of a nursery and vital addition for any new Mum's peace of mind. There's a lot to consider when it comes to choosing the right baby monitor for your baby's nursery and there's a tonne on the market which makes the decision even harder. Will it be secured to the cot, will it sit on the change table, will it have a screen, will it only provide audio, how will it connect, will it have Bluetooth, will it display temperature, will it sing your baby into a deep sleep? It's almost too stressful to know where to start when it comes to picking the one that's right for you and your baby, but thankfully, our dear friends over at One Fine Baby, have put together an extensive list that should help narrow it down for you. Check out The Best 11 Baby Monitors in Australia in 2021 here and help ease the stress of picking the best one for your nursery needs.
A COOL MIST HUMIDIFIER
Don't reserve the humidifier for cold and flu seasons – a cool mist humidifier is a great nursery addition to use all year round. Adding moisture to your baby's nursery with the aid of a cool mist humidifier can help ease upper respiratory symptoms. They are also a godsend if baby suffers from dry, itchy skin.
Here's a few on the market we recommend:
Lively Living Aroma-Snooze Sleep Aid ($115)
Consider this your all-in-one sleep saviour! The Aroma Snooze Sleep Aid comes with an essential oil blend to add a dreamy scent to your little one's nursery but that's only one of its perks. This bad boy isn't just a humidifier, it's also an air purifier which helps remove dust, germs and bacteria from the nursery. It also features changeable LED light settings, including a red tinge which is scientifically proven to aid the natural sleep cycle, five sound and music tracks, and a built-in voice recorder.
Ranked the #1 sleep aid, the Glow Dreaming Unit is scientifically engineered for optimal sleep. It features red light therapy – again, perfect for producing melatonin, our natural sleep hormone – can be used with essential blends, works as a humidifier and also produces pink noise (like white noise, a sonic hue that can improve baby's sleep)
Euky Bear Sweet Dreams Sleep Aid ($79.95)
This nursery necessity combines all the features you need to lull your baby into a sound sleep each night. As well as being an aromatherapy humidifier, releasing ultra fine mist into the air, the Euky Bear Sweet Dreams Sleep Aid features sound and light settings as well. Double it up as your baby's nursery night light or use it purely to moisten the air, whatever you need, this is a must have item for your baby's sleeping space. Euky Bear also stocks a delicious range of essential oil blends that will add an extra soothing scent.
COT SHEETS
Cot sheets are a great way to bring colour into your baby's nursery, but you want to make sure they don't just look the part and that they are comforting your little one in all the right ways. Cotton is the standard choice of fabric for a cot and this is simply due to it's incredible breathability. Many of our favourite brands blend cotton with jersey for a cot sheet that's extra soft to the touch.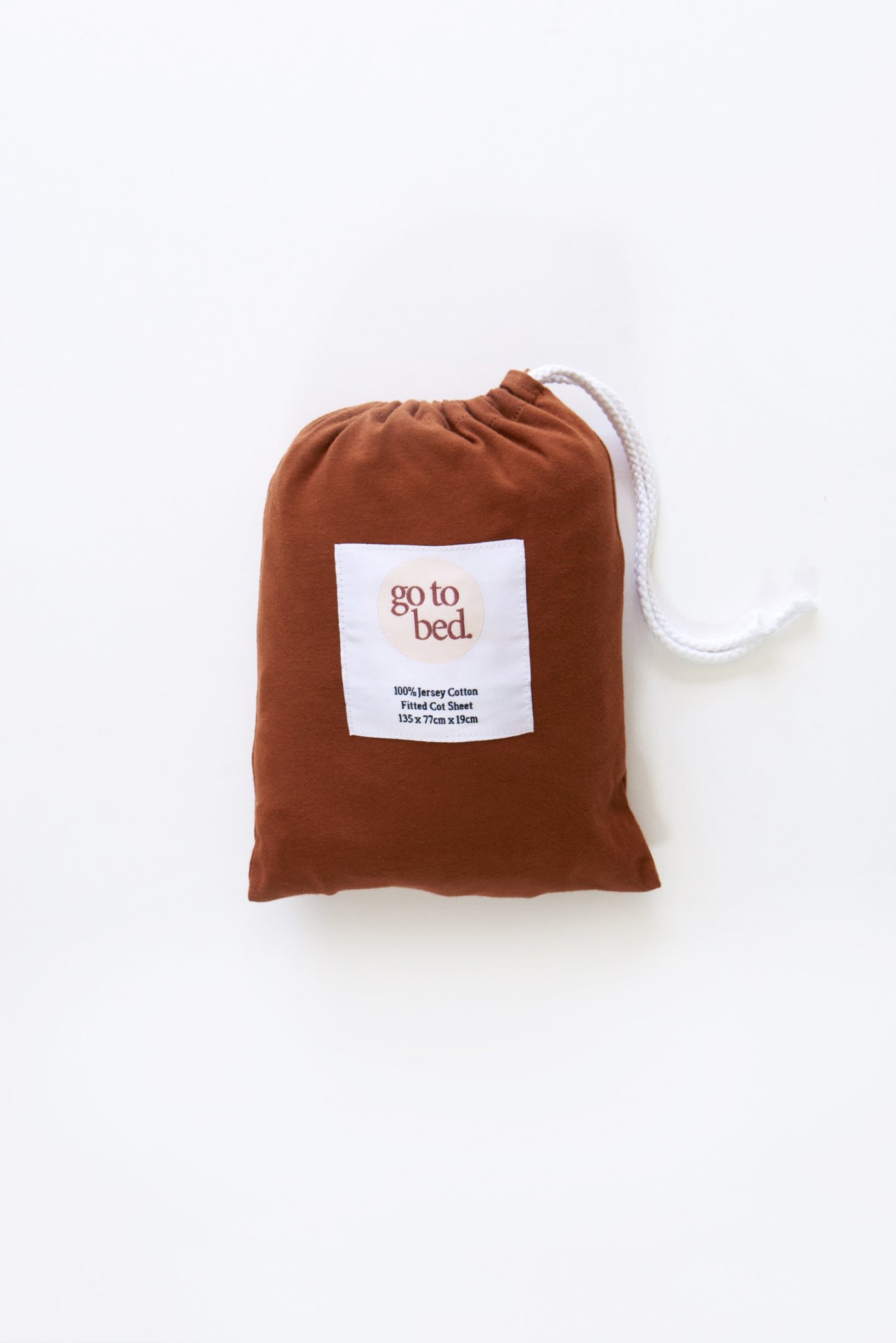 Go To Bed Fitted Cot Sheet ($49.95)
Made from 100% cotton jersey fabric, that is suitable to support your little one's sleep routine, all year round. This material is particularly lightweight in the Summer months, and cosy and comfortable in the Winter – all the while being perfectly breathable. This amazing brand has cot sheets available in a range of beautiful tones that are bound to suit any style of nursery.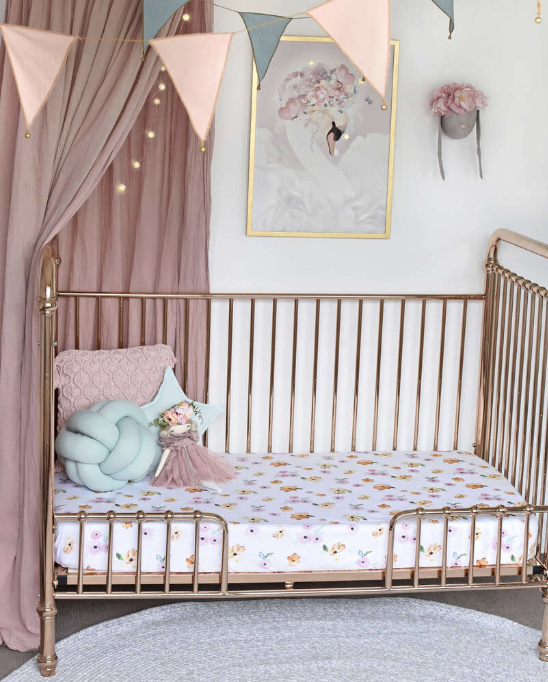 Snuggle Hunny Fitted Cot Sheet ($49.95)
You love them for their swaddles, but did you know Snuggle Hunny Kids also make the most delicious Cot Sheets for your baby? Plain or print, there's a cot sheet to suit your baby's nursery space, no matter the theme. They are made from soft, lightweight, breathable, snuggly soft stretch cotton jersey and if that's not enough adjectives to explain how fabulous they, we aren't sure what will be.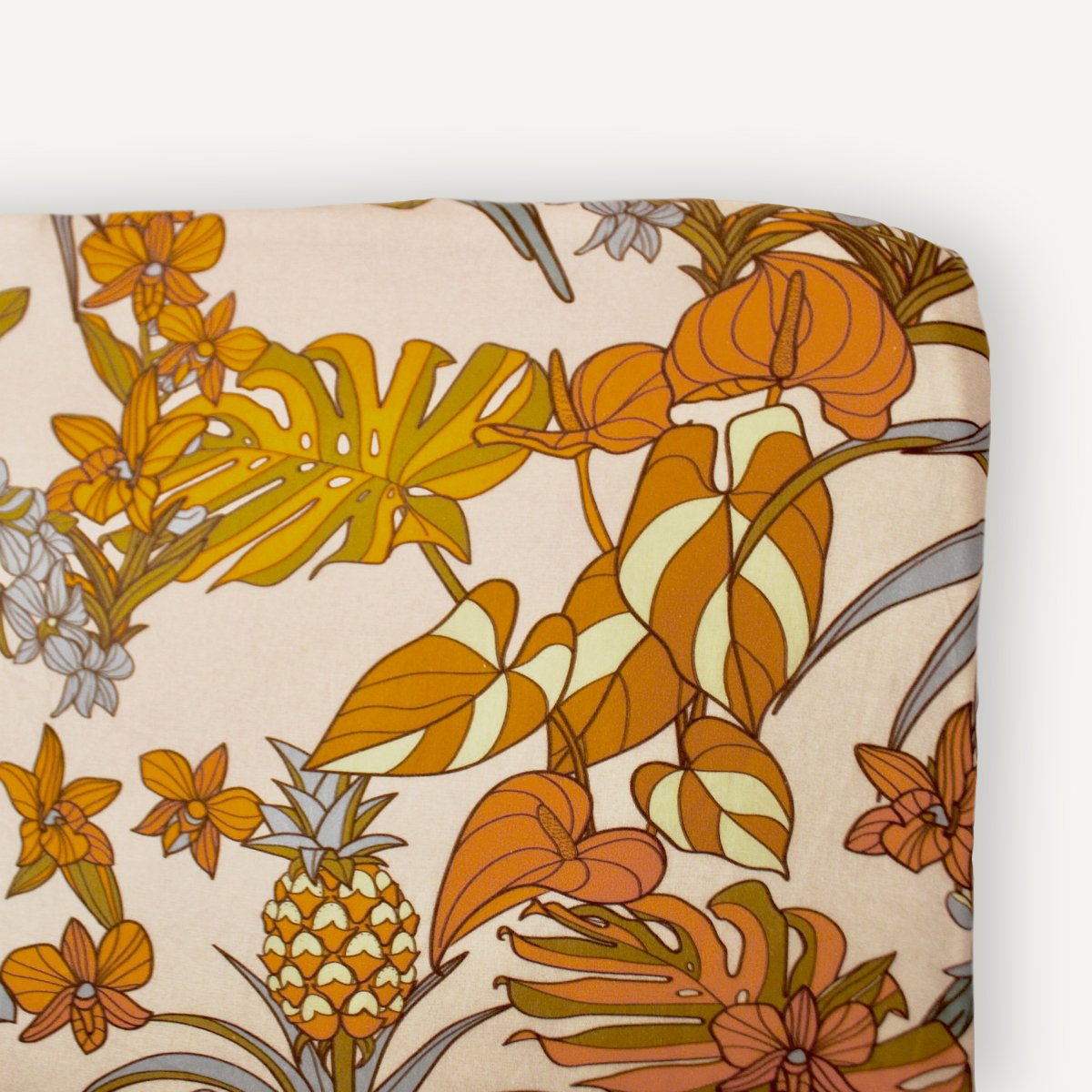 Banabae Fitted Cot Sheet ($89)
Cue the amazing prints, Banabae Cot sheets are here to add some fun to your baby's cot and overall nursery space! Not only do they look the part, they are made from a mix of hemp and organic cotton fibres which makes it hypoallergenic and thermo regulating. Talk about fancy!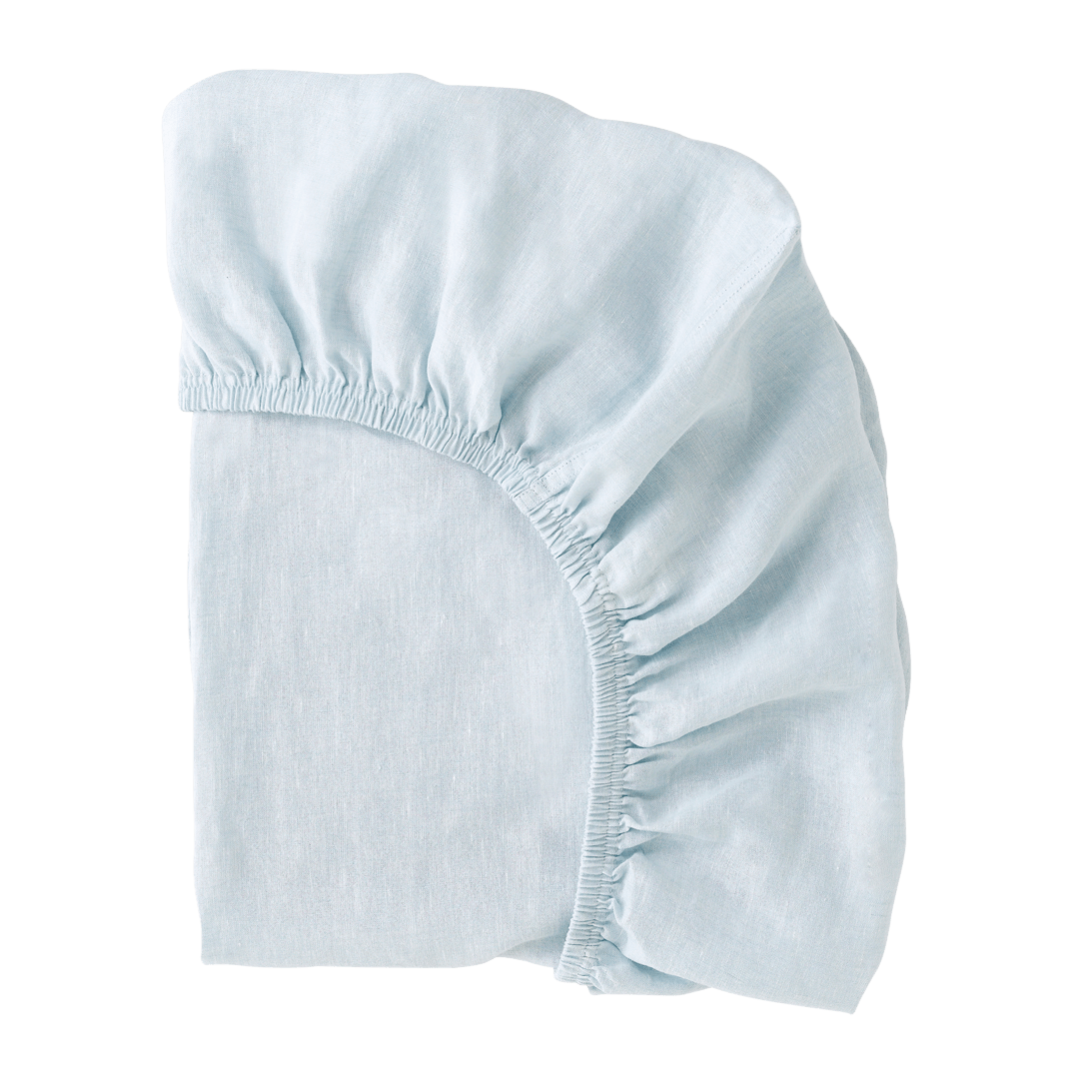 Pure, delicious linen, in a range of gorgeous colours! We've had the pleasure of showcasing this brand's gorgeous linen on our furniture at recent trade shows and can confirm that Madreperla's Cot Sheets are extremely high quality. Not to mention tunnel elastic and flat felled seams which make them extra durable.