At Incy HQ we LOVE seeing images from our customers, there is nothing we enjoy more than getting to see the final product shining bright in your nurseries.
We are really excited to share with you a beautiful nursery for baby Liam designed by Claire Nelligan featuring our Ivy Cot.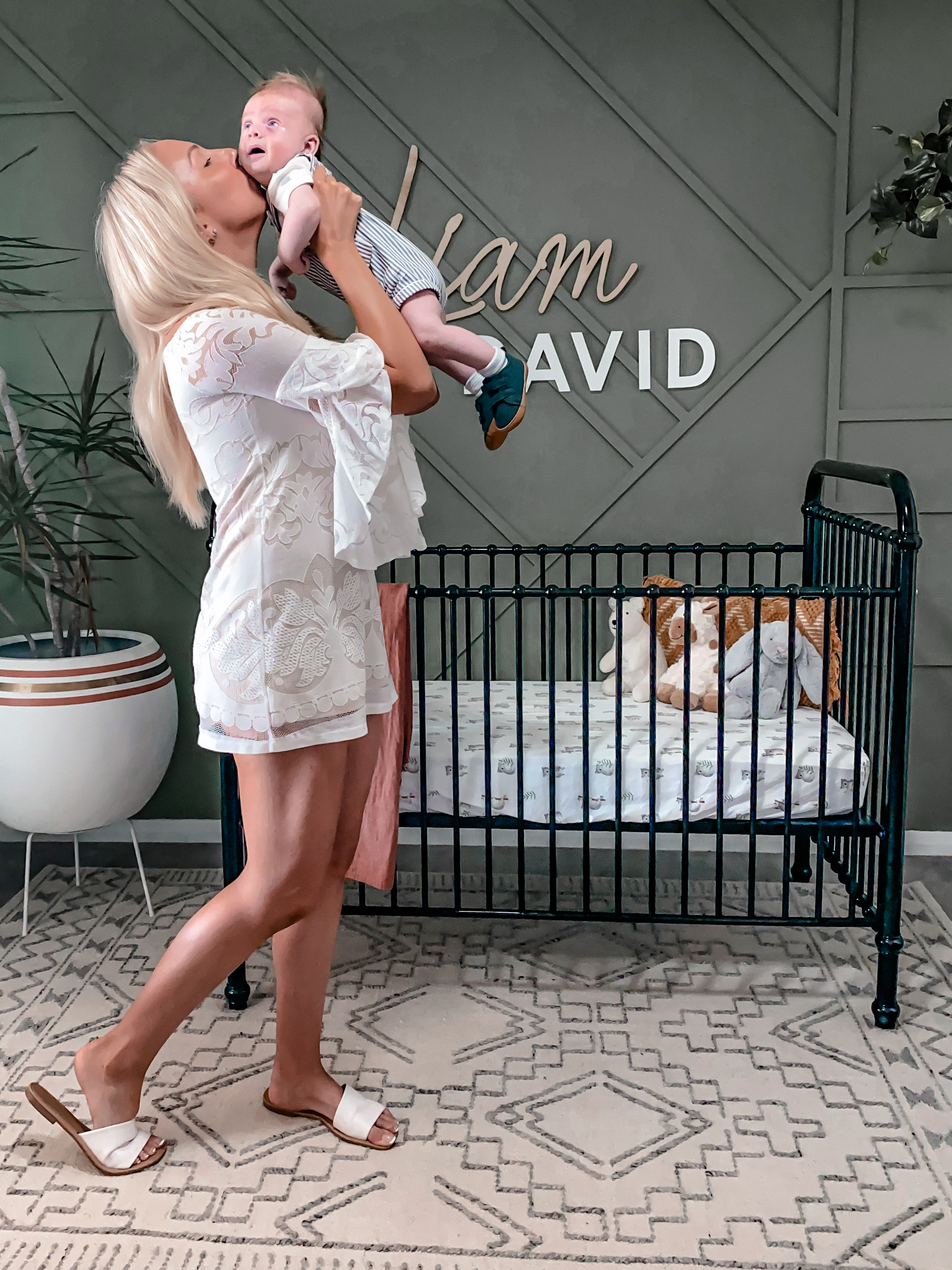 Incy was lucky enough to ask Claire 5 questions about how she styled Liam's nursery and we may be biased but we think this should be added to any mums-to-be reading list!
Incy Interiors: What is the theme of your nursery?
Claire: Modern Australia
Incy Interiors: How did you choose which products you wanted in your nursery?
Claire: I did a lot of research and used instagram to find Aussie businesses to use and Pinterest to create a mood board. I knew I wanted an Incy cot as soon as I discovered the brand on Instagram and basically planned my nursery around an Incy cot as my hero piece.
Incy Interiors: When should you begin planning your nursery?
Claire: Admittedly i'm a big planner, so I was looking before I was even pregnant! But, once I found out I was pregnant with a boy I chose my final design by the time I hit the second trimester. We took our time with it and I LOVED the process as we weren't rushing to do everything last minute when my maternity leave started. So I recommend the earlier the better!
Incy Interiors: What would be the one item in your nursery you couldn't live without?
Claire: This one is hard to answer! I would say a really comfy chair/rocker to feed your little one. I made sure the position in the room was facing out to the backyard so that I had a nice view for the many of feeding, cuddling and comforting ahead of me.
Incy Interiors: What is your advice to new mums looking to buy their first cot?
Claire: I would recommend any new mum to buy a cot that grows with your baby, has a timeless finish that you will love for years to come, support Aussie owned businesses wherever possible and read the customer reviews!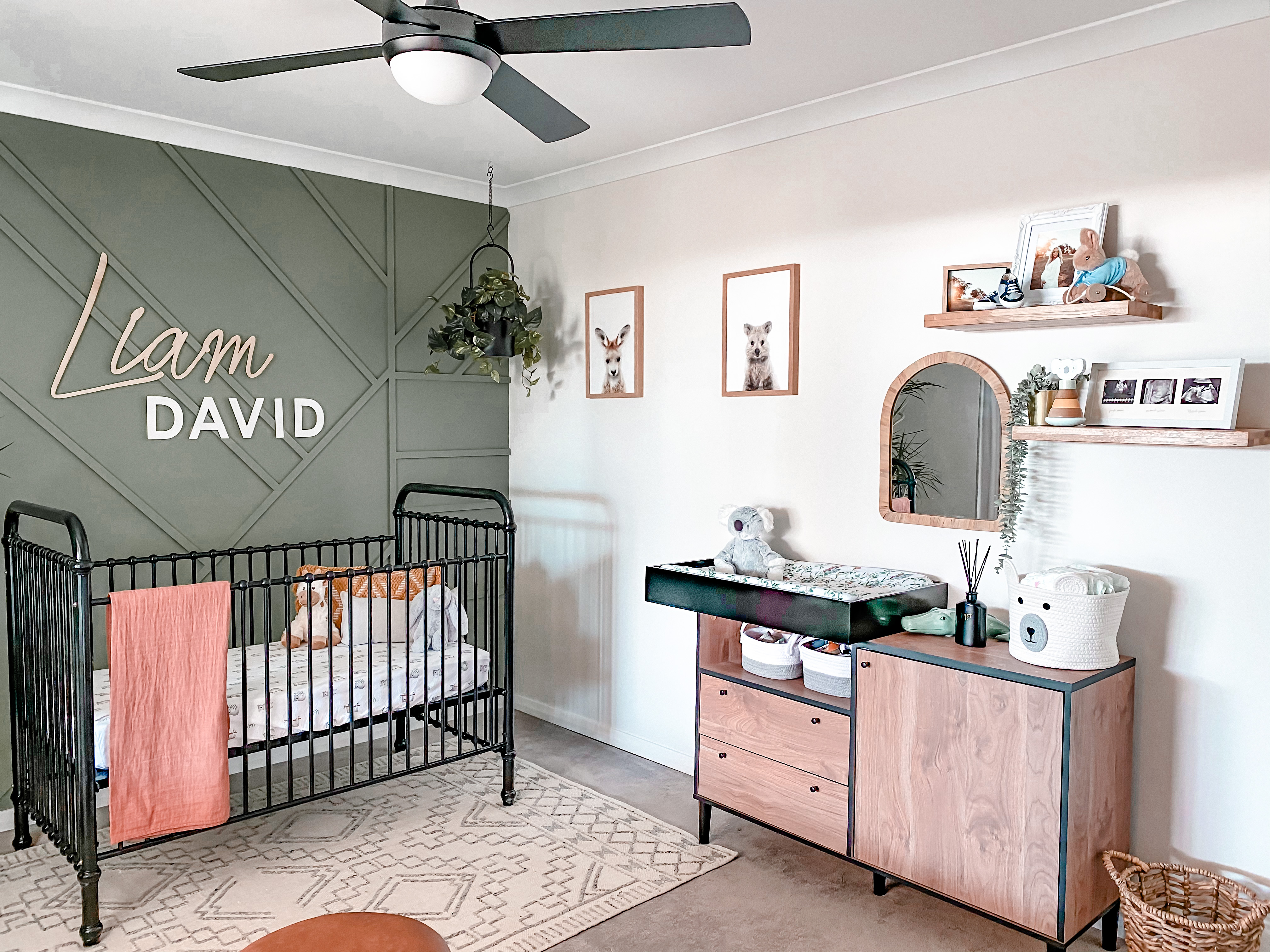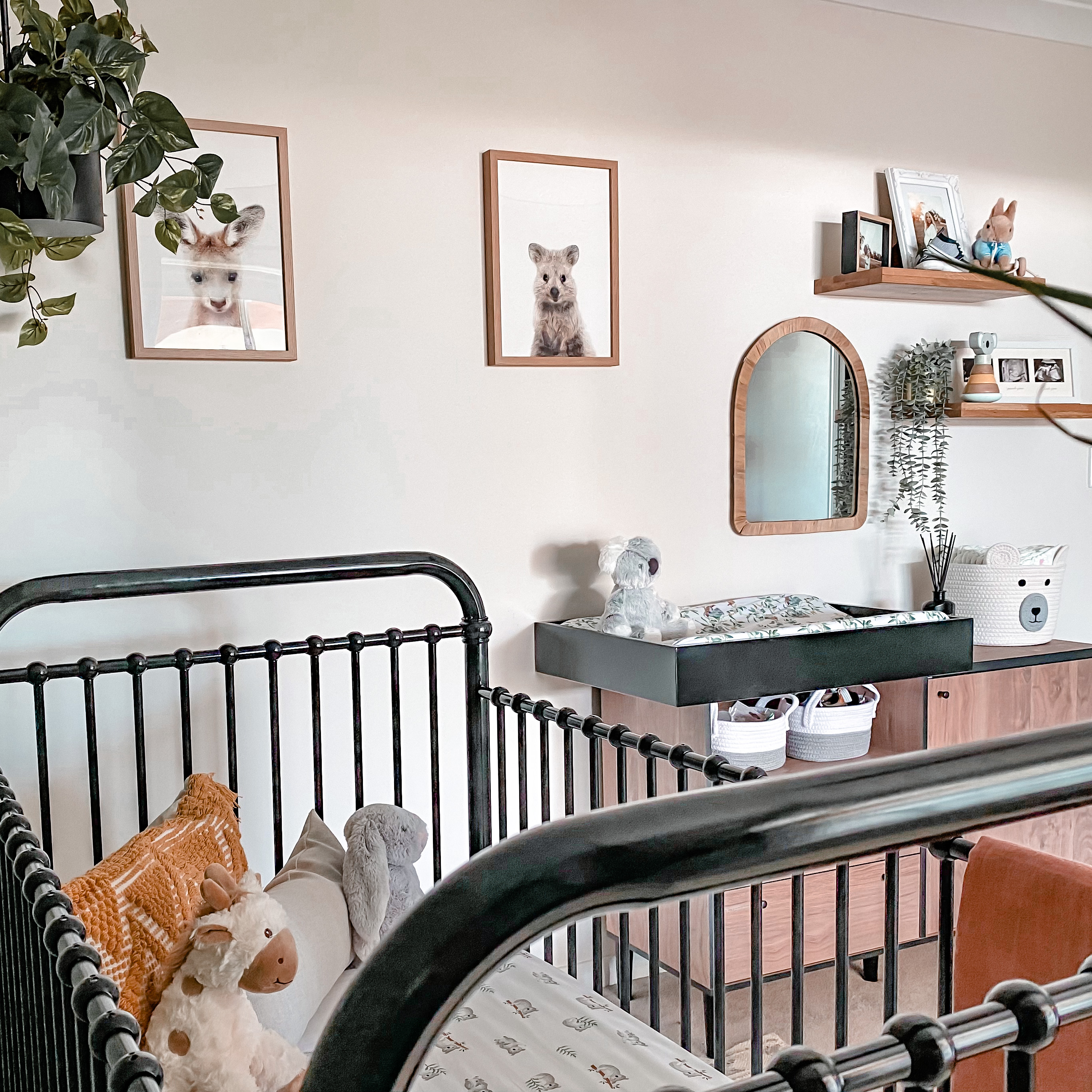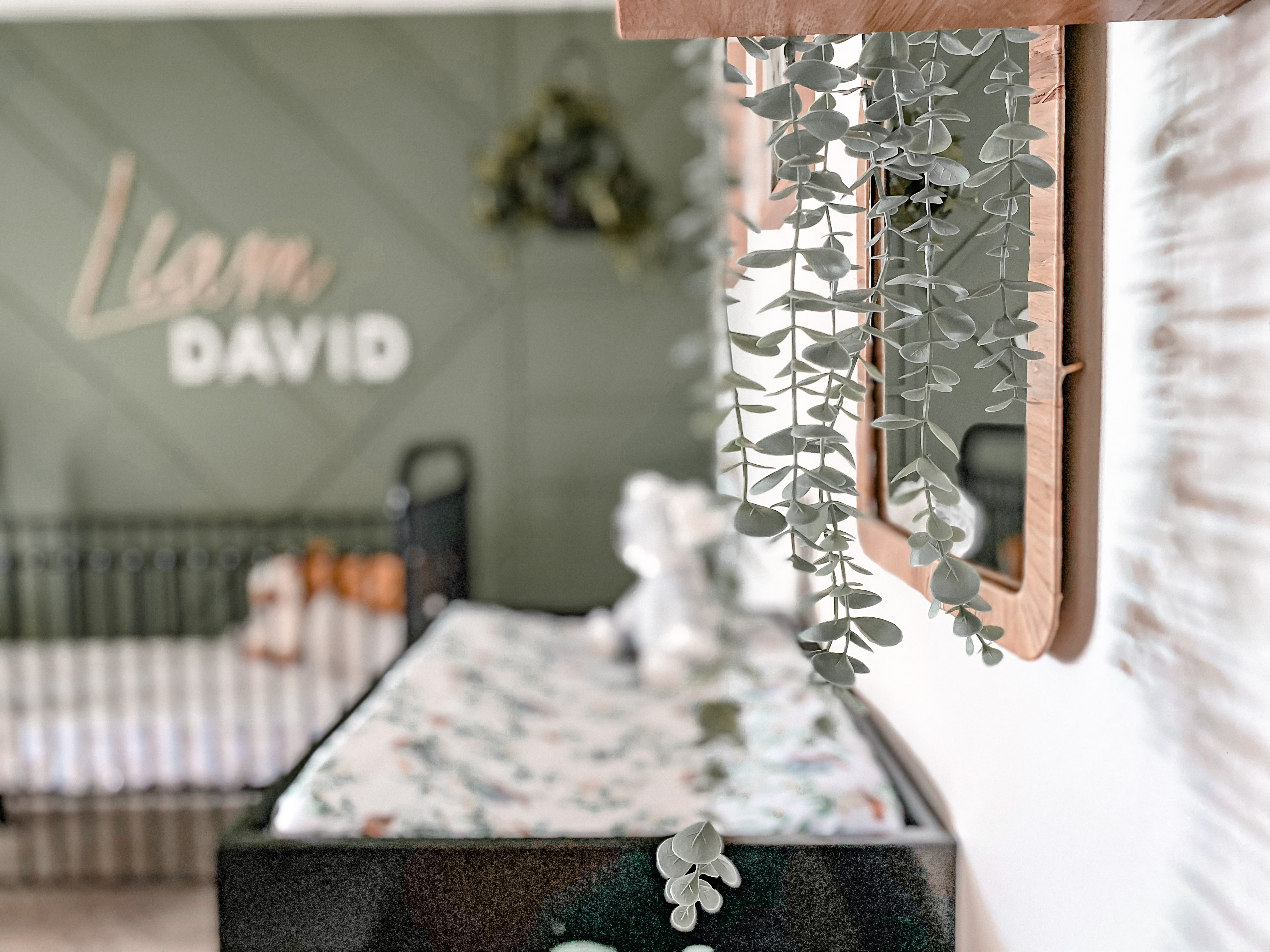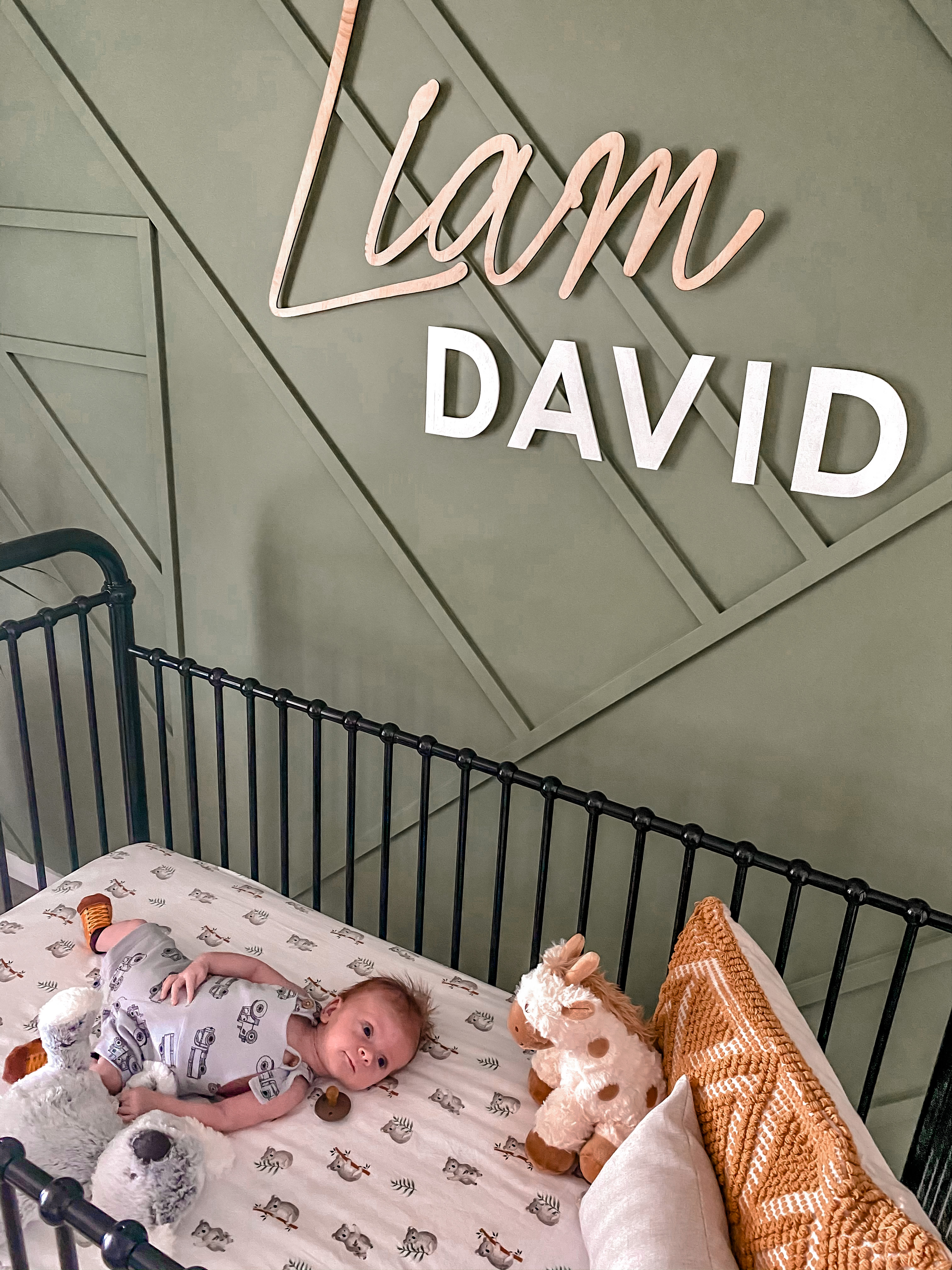 Nursery Styling: @claire_alyce_
Cot: @incyinteriors
Feature Wall: @fromthemancave_
Light: @onlinelighting
Rocking chair, chest of drawers, rug: @mattblattfurniture
Plant and custom pot: @jungleandvine
Custom name signare: @xoxodesign_au
Change mat cover: @snugglehunnykids
Print: @thecrownprints
Family Photos: @flissandco
Fan/light, timber for wooden shelves and feature walls: @bunnings
Curtains: @spotlightstores