Our Louis Bed doesn't often get much of the spotlight and while he is okay with it, we personally felt it was time to let him shine in all that metallic, dark nickel glory of his. He's been a staple within the Incy family for quite a few years now and there's a few reasons we think he's remained in this position.
His timeless design and dark nickel colourway adds a level of luxe without being too showy. What we mean by this is he is just as willing to blend into his surroundings as he is to be made the hero of the bedroom and that makes for a bed that is capable of growing and adapting as your child does.
Stylish AND functional (we know, what a guy, right?!) the mattress height of our Louis Single and King Single beds is easily adjustable - just to really amp up that timeless aspect we touched on earlier. Your babe can sleep soundly 20cm from ground to mattress base when first transitioning from cot to bed, and 40cm from ground to mattress base once they get a little older and thus, more confident. An investment in Louis is exactly that and we guarantee all the features ensure you're getting your moneys worth!
Because we are visual learners and love to put our words into action (by way of a virtual moodboard), we have taken the liberty of designing a space that we think showcases the timeless and versatile nature of our boy, Louis. Nestled amongst a cocktail of amazing Aussie brands, (we hope) this moodboard provides some insight and inspiration on how easy it can be for your babe to enjoy their Louis bed right through from the kid years to the teen years, with no need for major decor overhauls.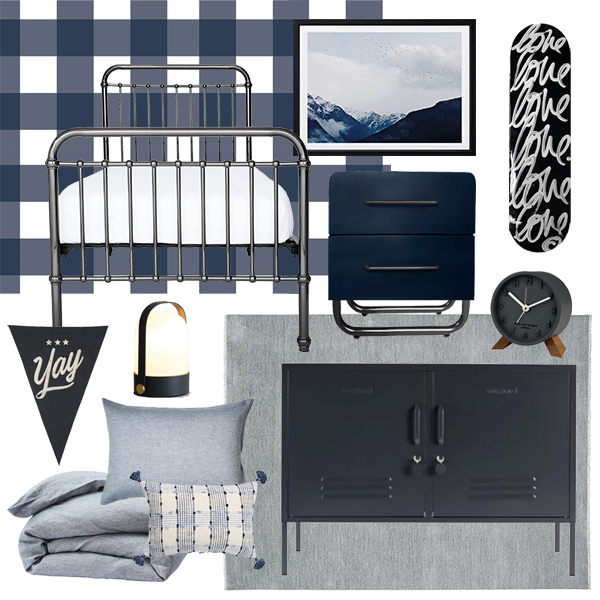 The brands behind the board:
Louis Bed King Single - Incy Interiors
Albie Side Table - Incy Interiors
The Lowdown in Slate - Mustard
Leila Rug - Armadillo & Co
Buffalo Check Wallpaper - Milton & King
Misty Mountain Artwork - Urban Road
Yay Wall Banner - Pony Rider
Skateboard - Blacklist Store
Linen Quilt Cover & Pillowcase - Sage & Clare
Alarm Clock - Purely Wall Clocks
Midas Table Lamp - Beacon Lighting
Crafted Stripe Pillow - David Jones/Anthropologie