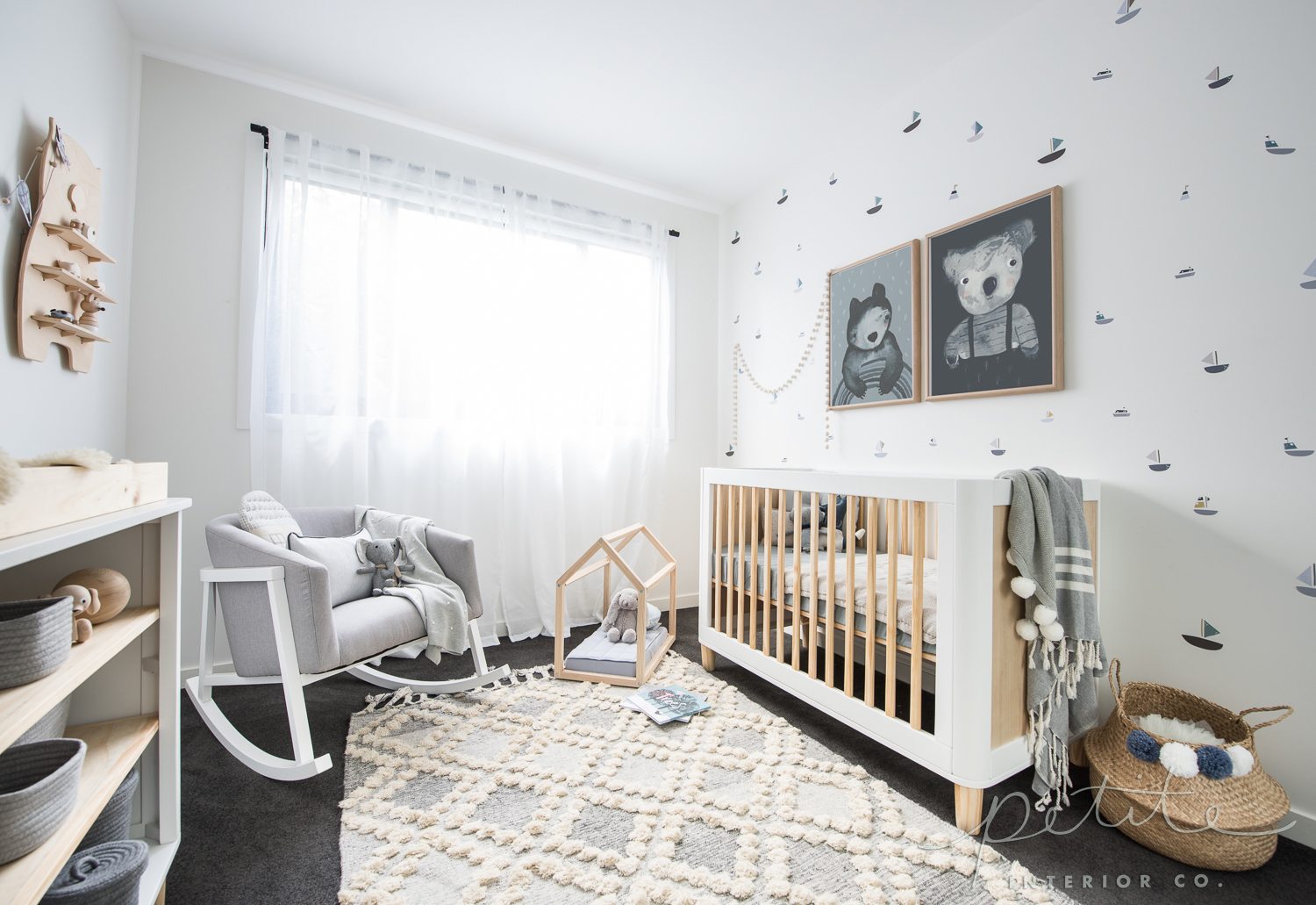 Planning for your baby's nursery is one of the most exciting parts of preparing for your little one's arrival and we've rounded up our favourite options at One Fine Baby. In this article we talk Nursery, Interiors, Decor, Bedding and feature the best brands like Incy Interiors, Banabae, Goldie and Ace, Stina's Style, Little Cloud Lane, Sack Me! and more.
1. Start your inspiration board for the nursery
Gone are the days of magazine cut outs, although we secretly still love that tactile nature. The place to start is Pinterest. Set up your own board and start pinning. After you have chosen about 15 images you will start to see the type of style develop of what you really like. Obviously a boy's room ranges in colours from blues, to greens, blacks to grey and neutrals. Get excited, the planning is under way!! We've rounded up a few of our favourite inspiration from our friends at Incy Interiors.
| | | |
| --- | --- | --- |
| | | |
| Colourful Nursery | Neutral Nursery | Navy & Gold Nursery |
| | | |
| Light Blue Boys Nursery | Creative Nursery | Colour Pop Nursery |
| | | |
| Animal Style Nursery | Jungle Theme Nursery | Art Deco Nursery |
2. Set your budget
Just like a wedding, building a budget for a baby is an eye opening experience! It's important to do your research and choose the items you are willing to spend on and those where kmart will suffice!
3. Choose your statement pieces
Statement pieces are what define the room and the style and also play a crucial part of that all important budget! Here are a few pieces we think are the most important for a nursery.
The cot for a baby boy's nursery is the place to start when planning your nursery out. There are loads of different styles on the market both wooden and metal frames. You can also read up on our ultimate baby cot buying guide over here.
The change table is one of the most essential items in a nursery, which does all the heavy lifting. This is where it's important to invest in a change table which has great storage and is at the right height to protect your back.
The feedings chair is definitely a statement piece, but also the piece that you will actually use the most because its where those late night feeds, cuddles or book readings take place. Choose wisely.
4. Choose your key styling elements
Styling your baby boy's nursery is where it all comes together. Think soft furnishings that add character to the room. We have outlined a few ideas below for bedding and decor like rugs, wall art, mobiles and play gyms.
Bedding for your nursery can range from the basic fitted sheet to many layers of blankets and quilts. Choosing a feature print can really help to set the tone of the room like the range from Banabae or Goldie and Ace with some more neutral palettes from Go To Bed, Baby Loves Sleep , 7pm Linen and Silky Tots.
Wall Art
Wall art for nurseries is an inexpensive way to make a huge impact on your room. It's definitely an easy DIY task that anyone can do, and at the end of it you feel really proud of yourself!! From basic stickers like stars, moons and flowers to full wall decals, the options are endless.
| | | |
| --- | --- | --- |
| | | |
| Feature Wall | Green Focus | Animal Print |
The final touches to compliment a boy's nursery are key to bringing it all together. Once you've set the theme with the key components and colour palette start to the focus on things that will bring character to the room. Soft and cosy things like rugs, cushions, display blankets, wall art, hanging art, wall prints, play mats and the list goes on. You can see a taste below just some of the wonderful brands that are in our One Fine Baby Shop.
5. Have Fun!
So there is a comprehensive wrap up of some of the things to think about when you are starting to plan your nursery. There is a lot to celebrate right now and the team at One Fine Baby and all the vendors listed here are so excited for you. This is what we love to do.
Image credits used are directly taken from the vendors stores or instagram accounts. Feature image is from the amazing team from Petite Interior Co who run their own styling classes and take private bookings.