As lovers of interiors and creating beautiful spaces, the excitement of pregnancy is magnified by being able to design and style the nursery! For many though, we know this task can be daunting, confusing and down right overwhelming - all feelings which may cause you to put off getting started and rushing it in your final weeks of pregnancy - an anxiety provoking scenario we don't wish upon anyone. There is one other option though - you can always call in the experts! This might be a friend or relative with an eye for interiors, a professional interior designer or you may seek inspiration by way of a Pinterest board or diving into some design blogs! As much as this space is for your little one, it is you who will be most consciously utilising it which means it needs to be practical, functional and most of all, make you happy every time you walk into it (regardless of how sleep deprived you are). What we are saying is that there truly is no right or wrong way to create your nursery space, just as long as it feels right for you… and whatever stops you need to pull out to make that happen, go for it!
Once you've had a peruse through whatever outlets sparked some inspiration, you may start to have a rough idea in your mind of colours, themes or potentially some nursery furniture you liked the look of. Our advice is choosing a few good quality base pieces - a cot, a change table and a feeding chair. Once you have these pieces, the fun begins!
Starting with neutral coloured furniture is a safe option as it allows you to put a theme in place around your furniture, rather than your furniture dictating the theme you should focus on. If you have a rough idea of a colour palette in your mind, start virtually collecting a few bits and pieces of it. This may be artworks, blankets, rugs, wallpapers. Another bit of advice is to not expect to complete this in one day. As you are collecting inspiration, you will stumble upon new brands and new elements you didn't think about incorporating. Keep adding these to your virtual collection!
Once you have your heart set on a few pieces - this doesn't even need to necessarily be your big base pieces - it's then as simple as starting to pull colours from the different elements.
Let us walk you through how this moodboard came to be. The first bit for us was relatively easy because we knew we wanted to feature our Ivy Cot and Lucy Change Table. For the lucky ones, you too, may have had your heart set on a particular cot or nursery package so you can pop these base pieces in your virtual collection and tick that part of the process off the list - go you!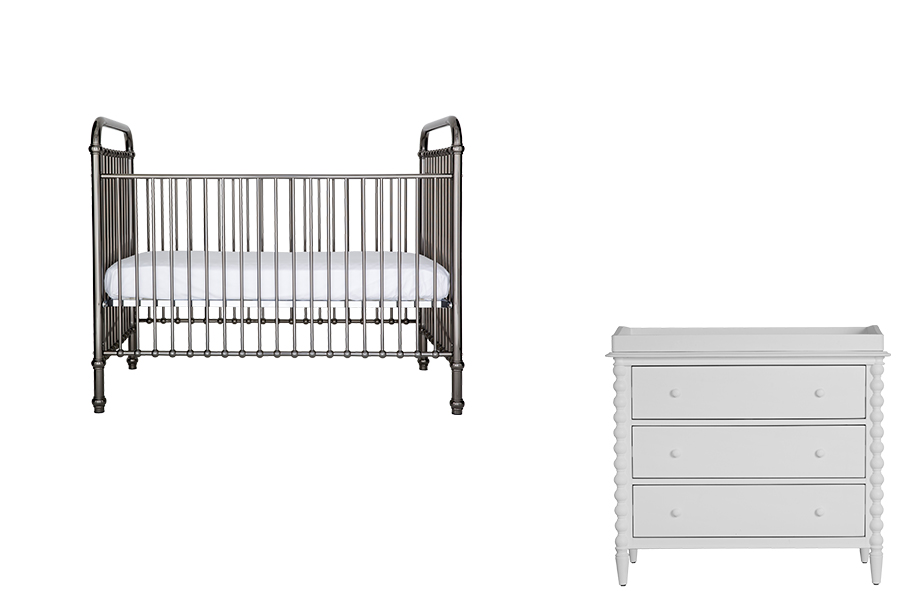 For the next element, we had previously saved an image of an artwork from Booie and Ben which we felt would work with our nursery pieces. To be honest, almost anything could have worked because we started with neutral base pieces. Now we have a cot, a change table and an artwork we love.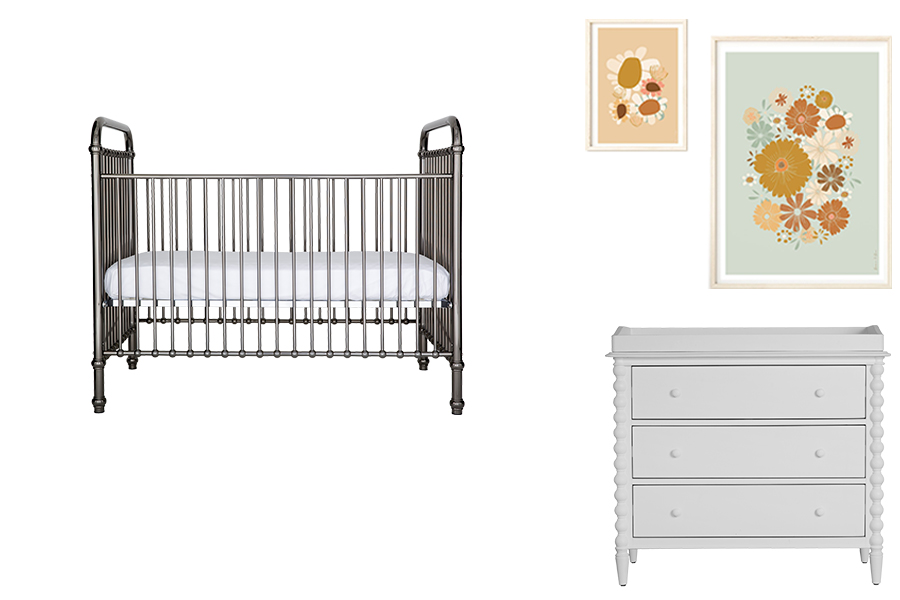 From here, we could have picked up the nickel and created a moody space, the white and created a clean, crisp space but because the artwork featured a colour palette we wouldn't mind extending to the rest of the nursery, we picked up elements from that and started compiling some other pieces. The mustard tones were what we focused on initially and so we pulled in some statement pieces like a canopy, a rug, a cushion and a tan leather chair.
We then went back to the artwork and looked at the rust colour. After some inspiration seeking, we found a terracotta throw and a rainbow wall hanging that matched back to the artwork. Notice we haven't actually paid much attention to our base pieces (cot and change table) because of their neutral palette, chances are whatever decor we pick would work with them - clever hey?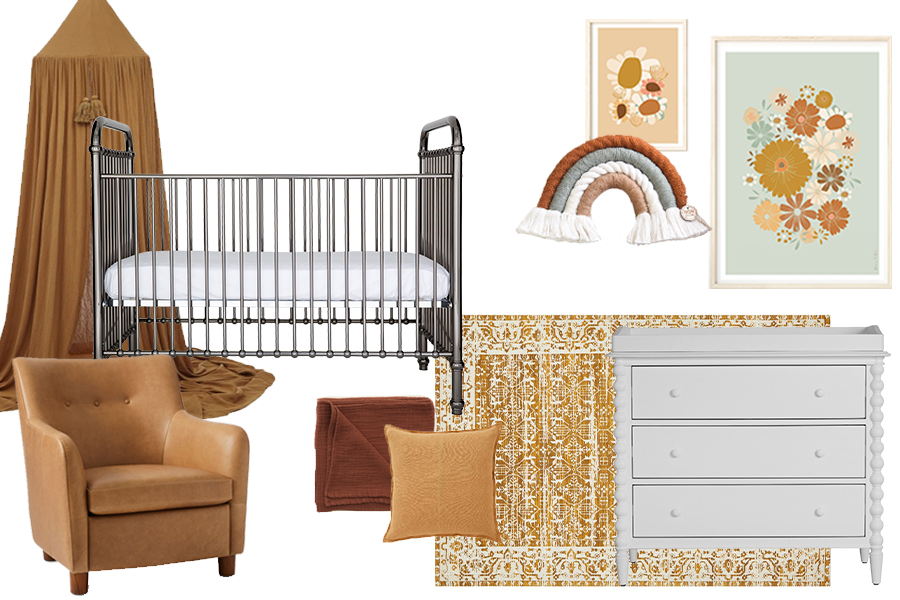 Completing the look is now as simple as continuing to pick up colours from the original element you started with (for us, the artwork), or adding small pieces of decor as a nod to other features of the room - e.g the rattan changing basket with a dark strip to pair back with the cot. Keep poking away at it - before you know it, you will have mustered up a moodboard that makes your heart happy and one you will be proud to bring your little one home to!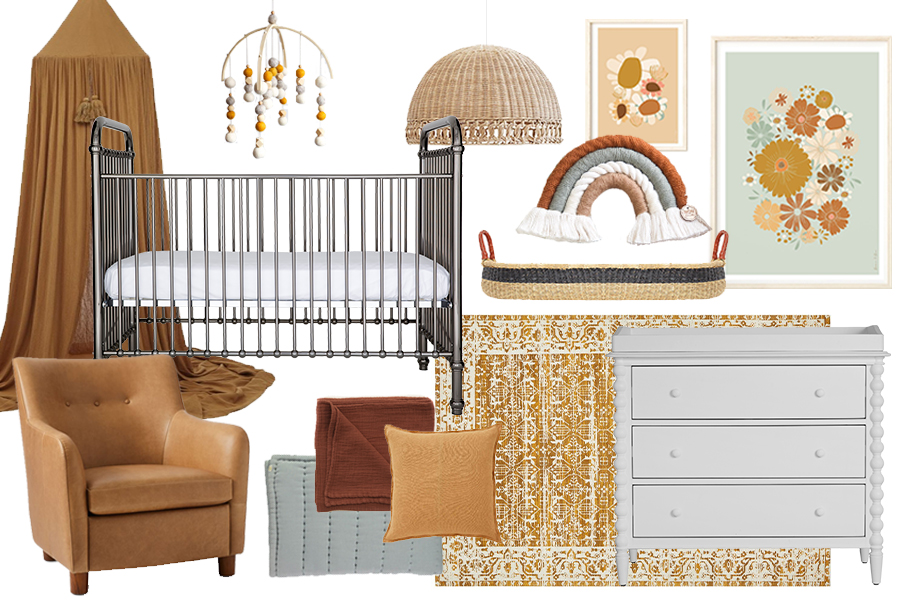 Don't be scared to be bold and don't be scared to make mistakes - remember this is all only virtual until you are 100% sure of the collection you've compiled! If you aren't apt in photoshop, we suggest making a pinterest board, adding images to a word document, creating a Canva account (basically a simple, online photoshop situation) or if you're doing it from your phone, simply make an album with all your pieces! By just seeing all the elements next to each other, you will form a sense of what belongs, what colours you should focus on and the theme you feel comfortable running with.
It's little cliche but our biggest piece of advice - have fun with it!
Take a look at the amazing brands we used to make this space:
Ivy Cot - Incy Interiors
Lucy Change Table - Incy Interiors
Daisy Artwork - Booie and Ben
Petite Rainbow 'Phoenix' - Iron and Cub
Teddy Leather Club Chair - West Elm
Florence Light Shade Natural - The Family Love Tree
Alaca Mustard Yellow Transitional Rug - Miss Amara
Garbo & Friends Cotton Muslin Throw Terracotta - Smallable
Camomile London Hand Embroidered Cotton Quilted Cover Pale blue - Smallable
Baby Changing Basket - Kwasi (Tan Handles) - Adinkra Designs
Como Square Cushion Amber - Weave Home
Mustard, Pebbles, White, Raw Hex and Round Felt Ball Baby Mobile - CMC Gold
Konges Slojd Organic Cotton Canopy - Smallable