We can't be the only ones who run into the same problem around this time of year. For a good few months before the Christmas panic sets it, we refrain from making purchases on the basis of 'I'll save that for my Christmas list'.
But here's the setback..
It's not until now that we generally start curating said list and by which time, those must have pieces have all but evaded our memories. It's first world problems, we know and the fact we can't remember is probably a decent indication that we didn't need it in the first place. But alas, this year we are trying our hand at being slightly more organised and have each compiled a virtual list of some of the things that have piqued our interest over the past few months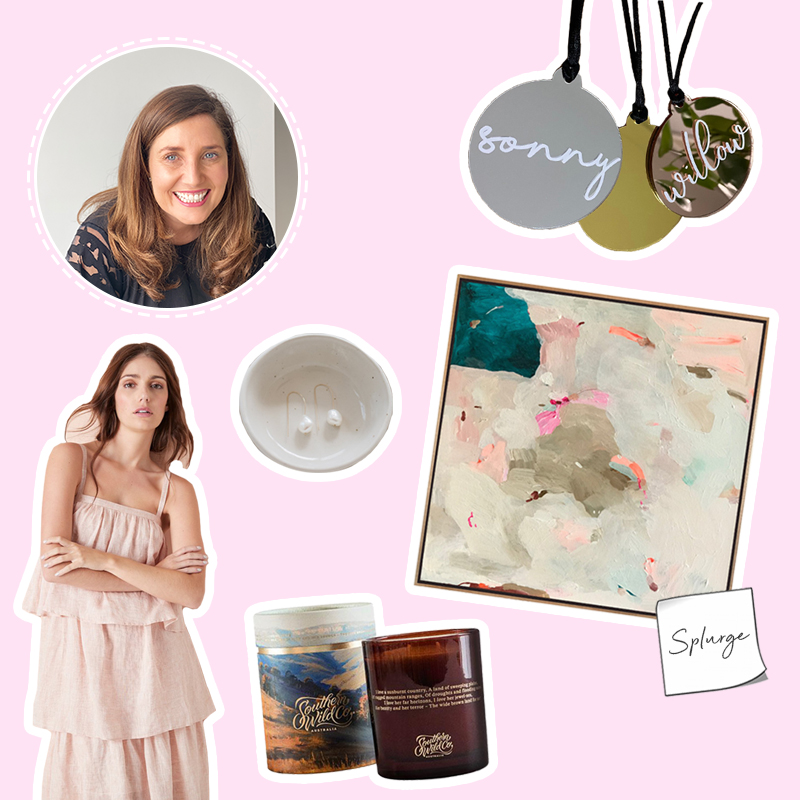 Kristy's Christmas Wishlist:
1. Southern Wild Candle. Southern Wild is produced just near Oberon where we grew up and the images on 'Our Place' are all snapped from around Oberon.

2. Peggy and Twig Earrings. This brand belongs to a lady from O'Connell (a small town near near Bathurst). She moved to Orange and was teaching, started Peggy + Twig fell in love with a farmer and has moved to Narromine. I'm sucker for a love story and a good pair of earrings!

3. Jumbled Artwork. This piece is from Jumbled but is by Lottie Rae who is from Trangie and did the paintings in The Hive (my office space).

4. Arlington Milne Dress. Our beautiful buddies with a beautiful brand. They also have a store in Cammeray, Sydney. I just love their stuff and I need this dress in my life.

5. Essential Label Co Christmas Baubles. Created by Jayde, a local Bathurst girl. Technically these shouldn't count because I have already bought them to hang on our tree this year but I think they are sooooooo cool. I've ordered one each for the whole family – Kristy, Simon, Oscar, Polly, Winston, Reggie, Bubbles and Barry.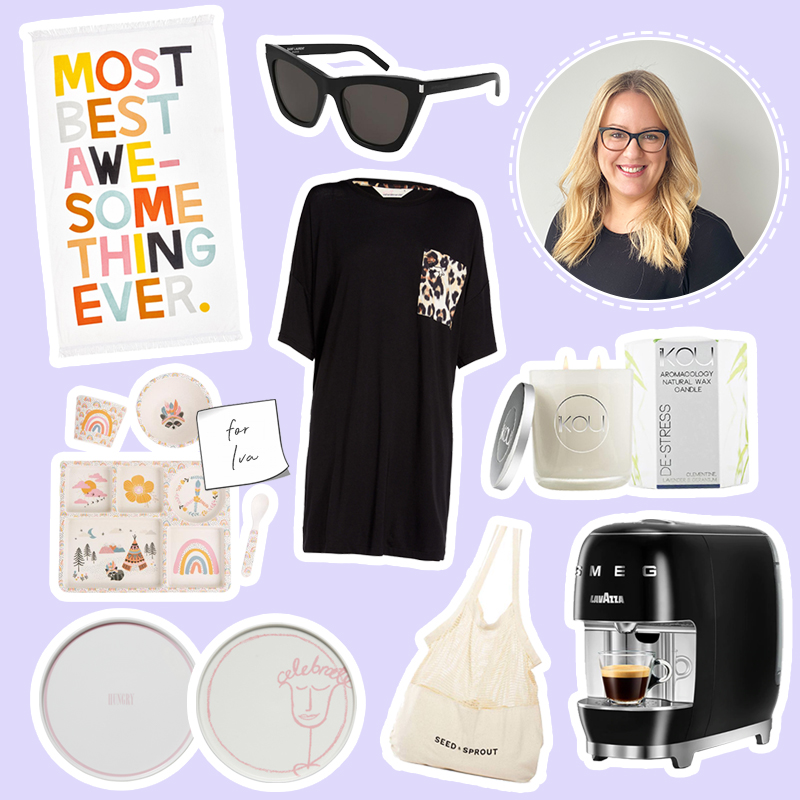 Tea's Christmas Wishlist:
1. Smeg Coffee Machine. I mean obvs I need it to match my kettle and toaster.
2. Ikou Candle. This is my new fav Aussie candle brand. The smell is just divine!
3. Rachel Castle & Things Beach Towel. Coz Aussie summer!
4. In the Round Dinner Plates. Absolutely love these!
5. Peter Alexander Nighty. Is it even Christmas if you don't get pyjamas?
6. Est90 Sunglasses. Because one can never have enough pairs of sunnies
7. Love Mae Gypsy Girl Plate Set. A little something for my daughter Iva
8. Seed Sprout Grocer Bags. I definitely wouldn't forget to bring my bags to the supermarket if they were this cool. They are organic cotton and come in a bundle of 14 pieces so you can carry EVERYTHING
Paigan's Christmas Wishlist:
1. I love Linen Duvet Cover. You can't beat good quality linen and this peachy perfection of a colour makes my soul happy. Moving back to Aus from the UK next year would be made a lot easier knowing I've got these to nestle into.
2. Status Anxiety Wallet. Of the very few brands I follow religiously this is possibly my favourite. It's almost become a bit of a Christmas ritual getting a new leather good for Christmas and fingers crossed this year is no exception because I've been eyeing off this bad boy for a while now.
3. Bonds Socks. An absolute stocking staple and this year they are more necessary than ever. I thought I'd miss Vegemite the most when moving to the UK. Turns out Vegemite is pretty readily available if you know where to look. It is in fact Bonds socks that are the hardest thing to come by for an Aussie abroad.
4. Francesca Jewellery. I adore this brand for rose gold jewellery and Christmas seems like the perfect chance to add a few more pieces to my growing collection.
5. Go-to Skincare. My soul (and my face) cannot live without this.
6. The Wholesome Store Teaspoons. I remember when I was about 8 I asked for a fork and a bowl for Christmas. It seems 19 years on my love for eating utensils is still alive and well
7. The Dairy Phone Case. Because I would love to be able to stare at this artwork from Jasmine Dowling all day.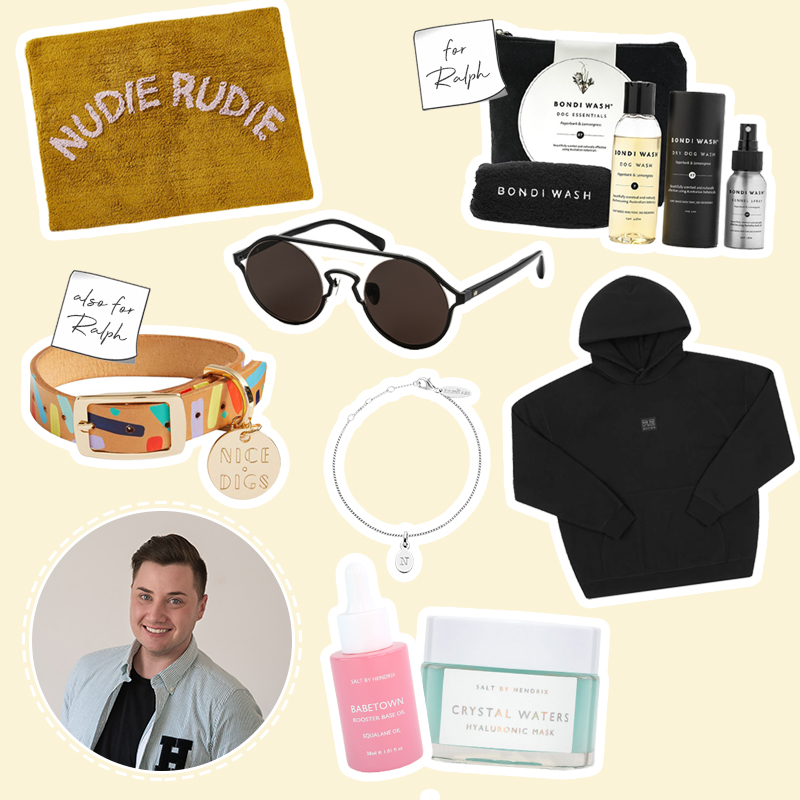 Tom's Christmas Wishlist:
1. Bondi Wash Dog Essentials. A little pressie for Ralph
2. Nice Digs Confetti Leather Dog Collar. Oops, another pressie for Ralph, with the matching lead as well – because why not!
3. AM Eyewear Sunnies. AM, for Aussie Made, cause gotta support local for Chrissy
4. Kirstin Ash Initial Bracelet. I love it!
5. Salt By Hendrix Skincare. Because you can't beat the gift of good skin.
6. PE Nation Uni-form. One in every colour pls!
7. Sage & Clare Nudie Bath Mat. This has been on my wish list for ever!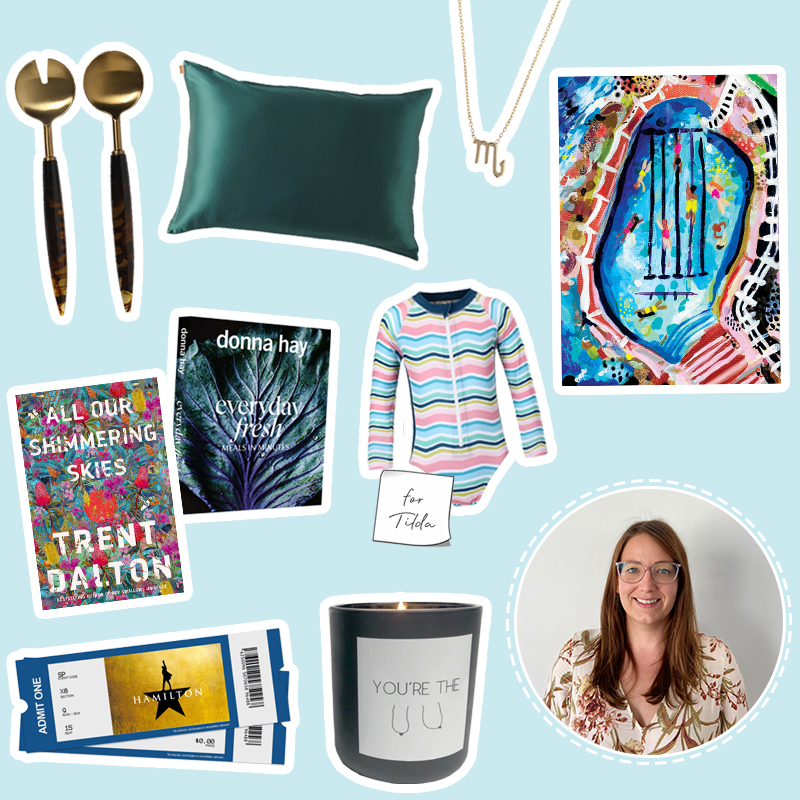 Kirsten's Christmas Wishlist:
1. Tickets to see the musical Hamilton at the lyric theatre in Sydney. I'm not a massive fan of musicals in general but during iso, I probably watched this 100 times.
2. Kip&Co x Jumbled Salad Servers. Love them…
3. Kip&Co Silk Pillow Cases in this beautiful green. I've only started using silk pillow cases this year and can't believe it took me this long.
4. "You're the tits" soy candle. Made by Celeste Barbers Mum made even better by the fact that all proceeds go to charity. They smell nice and makes me laugh.
5. "Scorpio" necklace from Sarah&Sebastian. A bit of bling is a must for Chrissy
6. "Bronte pool abstract" by Bronte Goodieson. I have been looking into buying art by local artists and Bronte works in a studio near me. I always stop when I walk past it. Bronte beach also holds has a special place in my heart.
7. All our Shimmering Skies & new Donna Hay Cookbook. Because it wouldn't be me without some book requests
8. Sandy Feet Australia Swimsuit. A little something for my daughter Tilda. Another Summer calls for another pair of togs, right?
Thanks for indulging us as we took you through our wish lists. Now to wait until Christmas morning to see if they come to fruition!
While we've got you, we did just want to add a little note to this blog to iterate something SUPER important.
One thing we have learnt this year is the importance of shopping small so it's no coincidence that the brands we want to find in our stocking come Christmas morning are exactly that. If there's one take away from this blog, we hope when you're buying gifts this year you keep the little guys in mind too and support them as much as possible. The sad reality of it is that if we don't think about them now, they may not be there to think about for much longer.
Also, a second side note to our mum's - we promise we sent you the link to this blog by accident. Weird coincidence though, right?!