There's nothing like being fashionably late to the party and that's exactly what's happened here. Our Oscar Cot (fashion) was launched in early February and here we are in April, just getting to his introductory blog post (late). It's all about balance and thankfully Oscar is a pretty understanding guy so he isn't too phased on our punctuality.
Alas, we wanted to formally introduce the newest member of the Incy fam on the blog and give this limited-edition hunk of matte black love, the attention he deserves. A little backtrack first for those who got held up in the limited-edition portion of that previous sentence. Oscar IS in fact, not going to be around forever. Why, you ask? Well here's a little diddy to explain what happened:
Our fabulous manufacturer, gave us a bell one day saying he had made some of our metal cots made but was yet to colour them. Instead of haphazardly suggesting we go with our best selling rose gold colour-way, we put it to the people – our virtual audience via the wonderful platform of Instagram. From four colours and the photoshop skills of our graphic designers, we mocked up some visuals and went on a (virtual) quest to decide which colour these said cots would end up. Four quickly became two and the fate of these cots was now well and truly bestowed into the hands of our followers. Mint green or matte black. The finale was an intense nail biter (or as much as a virtual Instagram poll allows) and matte black reigned supreme (great choice, fam).
You guys were as excited as we were (which isn't that surprising considering you did vote for him) and our Oscar Cot headed to powder-coat town for a dressing in his matte black coat. Fast forward to today, we have nearly exhausted this shipment and are in cahoots as to whether we keep him on as a regular star of the show or just embrace his successful and memorable one-time appearance.
Anywho, moving on before we get too emotional about potentially faring him well. To celebrate our Oscar coming into the world (again, we realise this is very overdue) we wanted to show you how fabulous this guy really is with a spot of inspo and some products we think compliment him beautifully.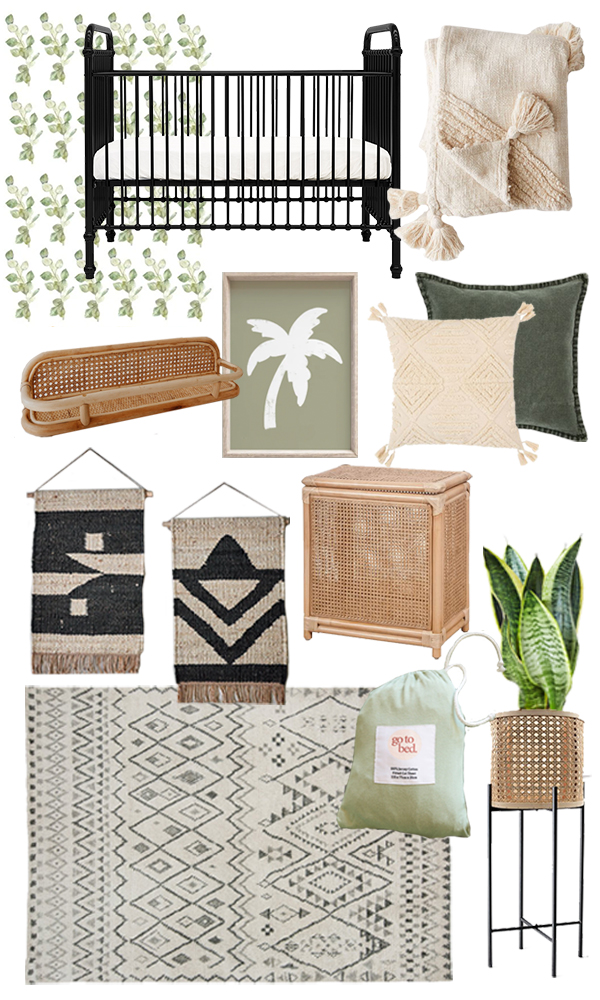 Incy Interiors Oscar Cot
Little Rae Prints Green Leaf Foliage Wall Decals
Miss Amara Awena Ivory Tribal Rug
Domayne Plant Stand
*Snake Plants are great in the nursery as they are one of the best when it comes to purifying the air
Nkuku Kilbo Hemp Wall Hanging
The Family Love Tree Latitude Basket
Freedom Cushions
One Fine Baby 'Go To Bed' Cot Sheet in Sage
Black Salt Co Hayman Shelf
Urban Outfitters Aden Tufted Throw Blanket